(Last Updated: 22/03/2023)
You don't have to look too hard online to find adverts for cheap conveyancing quotes that start as low as £99 and, with all the costs involved in moving home, this can look very appealing. The question is, "What do you get for this low cost?" and "what haven't they included?".
You'll most likely get seemingly cheap online conveyancing quotes using search terms such as 'cheap conveyancing solicitors near me' or 'cheap conveyancing solicitors for first time buyers' from a number of conveyancers or solicitors and compare these to find who is the best. 
It is common practice for these estimates to present a low upfront fee to lure you in, which has additional fees to be added on top at the end. What we show you in this article is how to spot the additional fees in your quote. 
If you're struggling, we offer a free quote comparison service to make sure you know what your solicitor is going to charge you. Our fees won't break the bank and we always deliver on quality - call us any time on 0333 344 3234 (local charges) or click for a quote.
Fixed Fee | Excellent Trustpilot Rating | No Sale No Fee | We include all legal fees in one low competitive conveyancing quote
What's the difference between an estimate and a quote?
Estimate - "an approximate calculation or judgement of the value, number, quantity, or extent of something"
Quote - "a quotation giving the exact cost for a particular job or service"
It is always important to make sure you get a quote for the conveyancing fees not an estimate. We only ever provide
fixed fee quotes
for our clients. You can call us for a quote on 0333 344 3234 as we help clients move throughout the whole of England.
What to look for in the Terms & Conditions of low price quotes
With a low price conveyancing quotes you'll need to make sure you trawl through the solicitors' terms and conditions to see if they genuinely are the cheapest solicitor for house purchase that they might claim to be as they'll include lots of 'add-ons' that will most likely get added onto their upfront fee, changing your upfront fee of £399 to a £1,000 final bill. Here's what to look out for:
| | | |
| --- | --- | --- |
| Additional conveyancing fee | What is the extra conveyancing fee? | Should this fee be part of the standard conveyancing fee? |
| Administration fee | £40-£100 | Yes - this is to cover costs such as post, telephone calls and incidentals. |
| No Sale No Fee Protection | £50-£200 | We include No Sale No fee Protection as standard for all our sale and purchase quotes, however other law firms often levy a fee so make sure to check if it is or isn't included as standard. |
| File storage fee | £50-£100 | Yes - it is best practice for a a solicitor to store your file for a set period and should include the cost for this in their upfront fee. |
| File retrieval fee fee | £50-£100 | No as the solicitor will not always have to retrieve your file after completion and should be able to charge a fee for doing this. |
| Case tracker fee | £15-£50 | Yes - Online tracking allows you to view the progress of your conveyancing based on specific milestones reached. We offer a FREE online Conveyancing Process that goes beyond any other online tracker. Click here to use for free today. |
| Cyber Crime Verification Product | £12-£50 | Yes - cyber crime and email scams are a real threat to you, which is why your solicitor should complete checks on the other side's solicitor to confirm there. You can read more on What steps you can take to protect yourself from cyber crime. |
| TT/CHAPS/Bank transfer fee | £30-£80 | Yes - on every sale and purchase a minimum of one bank transfer is required so this should be included within all conveyancing quotes. For more than one bank transfer you should be aware of this additional fee. |
| Stamp Duty Land Tax (SDLT) Filing fee | £50-£125 | Yes - for every purchase your solicitor completes a SDLT return to HM Revenue & Customs for you, whether you have a liability to pay or not. |
| Online ID fee | £8-£25 per person | Yes - your solicitor completes an online ID check for every client. |
| Mortgage fee | £50-£250 per person | Yes - if you are getting a mortgage then your solicitor charges you for the work undertaken for you and the mortgage lender. You can read more about buying with a mortgage here |
| Leasehold fee | £50-£300 per person | Yes - if you are buying a leasehold or share of freehold property then your solicitor should include additional fees for the work involved in handling this type of transaction. You can read more about buying a leasehold property here. |
| Receipt of bank transfer fee | £20-£50 per payment | Yes - a solicitor will receive money on every purchase so should always include the cost of managing the receipt of money from you in their standard upfront fee. |
| Reply to legal enquiries fee | £20-£40 per enquiry | Yes - a solicitor raises a number of enquiries during the title checking process and should include this work within their standard upfront fee. |
Look out for this phrase on your estimate
'This is based on an estimate and further work may be chargeable'
Your solicitor should be able to provide a Fixed Fee Quote at the outset that would cover the majority of all the legal work that is standard. An estimate right at the outset always leads to extra fees being added onto the estimate.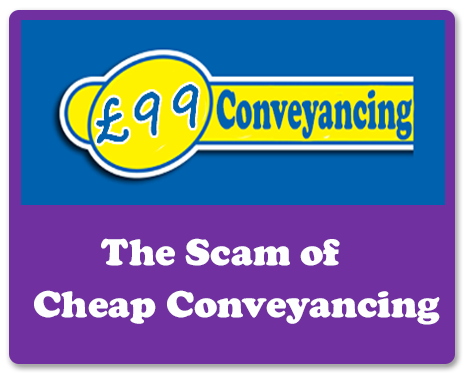 What are the average solicitors' fees for selling or buying?
Average for a sale for £250,000
The average fee for a sale is less than a purchase as there is less work to do. From reviewing the top 10 online conveyancing solicitors the fee for a sale of a £250,000 freehold ranged from £499 to £1,059 Including VAT. Disbursements to add onto this were online ID fees, official copies of the title register and copy deeds.
Average for a purchase for £250,000
From the same top 10 online conveyancing solicitors the fee for a purchase of a £250,000 freehold ranged from £565 to £1,159 Including VAT. Disbursements to add onto this were online ID fees, stamp duty land tax, conveyancing searches, land registration fees and OS1/bankruptcy checks.
What are the other conveyancing costs?
Here are the other conveyancing costs that need to be paid for:
Sales Costs

Purchase Costs

Online ID Check
Lawyer Checker Fee
Official Copies of the Register of title
(If Leasehold) Copy of the lease
(If leasehold) Leasehold Management Pack




Stamp Duty Land Tax
Land Registration Fee
Property Searches
Online ID Check
Lawyer Checker fee
OS1 & Priority Searches
(If leasehold) Apportionments inc service charges and ground rent
(If leasehold) Notice fee to landlord, engrossment fee, deed of covenant fee
Fixed Fee | Excellent Trustpilot Rating | No Sale No Fee | We include it all in one low competitive conveyancing quote
Frequently Asked Questions
Does an expensive quote guarantee excellent service?
Whether you pay cheap fees or more expensive ones you can come up against bad service. You should always look to other client reviews and testimonials to assess the service levels of a solicitor. We work really hard to maintain our 5 out of 5 Google rating and our secret is regular updates and always telling you what to do and when to do it.
Does cheap always mean bad service?
Research states that around 30% of clients who have used conveyancing services would have been happy, in retrospect, to have paid more if their process had been more efficient and speedier. Price is not always the direct factor for good service, however if a firm of solicitors who provide the cheapest conveyancing fees have to work with 3 clients instead of another quote that is more expensive and the firm is only working with 2 clients, then the cheaper solicitor will have less time to support their 3 clients.
There are, however some very efficient competitively priced solicitors who provide a good service at a competitive price: call 0333 344 3234 to find out more.
Can I used confused.com conveyancing?
There is nothing to stop you using a comparison site, such as confused.com conveyancing, when starting your search for a conveyancer however all the advice offered above is just as relevant - you'll always get a better result if you're prepared to put more work into your initial research. And bear in mind that you should even sift through the apparent quality of reviews you see, not just the headline number of stars or marks out of ten.
How can a first time buyer get a cheap quote?
First time buyers can get cheaper quotes by researching online and otherwise for cheap online conveyancing and selecting a cheap quote. Questions arise from this however. What exactly is a cheap quote and does it give you a cheap service? Is first time buyer conveyancing relatively more expensive than for a home mover?
Firstly, in order even to be able to compare quotes to find out if one is cheaper than another, it's far easier to examine fixed fee conveyancing quotes. Estimates are notoriously hard to predict in terms of what you will eventually be charged in your final bill. Even with fixed fee quotes, you should examine any firm's terms and conditions to find out what's covered in the fixed fees.
In terms of what constitutes cheap in absolute terms, this depends on what you're looking to buy. Freehold is cheaper conveyancing than leasehold and shared ownership conveyancing or Help to Buy conveyancing is more expensive than standard conveyancing. And the higher the price of the home you're looking to buy, the more you can expect to pay also.
Regardless, for any conveyancing matter, you should not expect your final bill to be cheaper than say around £600. You might get an estimated quote for lower – perhaps even a ridiculously low quote such as £200 – but alarm bells should be ringing if you do. And can you expect your customer care to be worthy if you're paying your solicitor 'peanuts'?
Fixed Fee | Excellent Trustpilot Rating | No Sale No Fee | We include all legal fees in one low competitive conveyancing quote
Additionally first time buyers most often can only afford leasehold and/or Help to Buy and/or shared ownership properties: as noted, the conveyancing which accompanies these is always relatively more expensive.
Taking all the above into consideration, first time buyers can still get a competitive fixed fee quote – or rather a good value for money quote – if they 'do their homework.' First time buyers make up the majority of our market and we offer them fixed fee quotes with a no sale no fee guarantee they can rely on as standard. We don't overburden each of our individual solicitors with too many home moves at once so they can give each valued client personal attention.
Each of our clients has only one named solicitor, whom they can call, and a case handler who works alongside that solicitor and coordinates activity throughout each home move. We pride ourselves on providing a value for money service at a fair price; you can consult our reviews on Trustpilot or Google to read what our satisfied clients think.
Are cheap conveyancing solicitors fast?
Generally in life, you get what you pay for and, in the main, the conveyancing sector is no exception. The best cheap property solicitors always work to provide cheap fast conveyancing i.e. to ensure your home move is completed as quickly and efficiently as possible – although their good work has to be backed up by all the other parties involved also 'pulling together' – but can you expect this great service if your conveyancing quote is cheap? You can be forgiven for thinking of the trio – 'fast', 'cheap' and 'quality' – of which you can only ever have two of these attributes, not all three.
Once again we'd take 'cheap' to mean 'value for money' and not 'shoddy'. The fact is that a well-run property lawyer firm will ensure that their solicitors aren't swamped with home moves such that efficiency is lost – i.e. that there is balance in the distribution of work – and a successful one will look to keep margins fair so that the cost of the work is kept comparatively cheap and competitively-priced enough to stay on top of the competition.
Low, fixed price solicitors can certainly be fast but you owe it yourself when researching quotes for home move lawyers to ensure that you're neither going to lose out on quality of service, time being of the essence, nor looking to pay so little that alarm bells should be ringing.
Is there a difference between a cheap property conveyancer and a conveyancing solicitor? It's easy to become confused by the many terms you see used to describe the legal professionals who help you with your home move. You'll see terms like property conveyancer, property lawyer, conveyancing solicitor, licensed conveyancer and conveyancing executive among others. And do any of these terms signify cheap (value for money) or less qualified for example?
Generally, for any particular home move, overall responsibility lies with one person who must be either:
a conveyancing solicitor – this is a practising solicitor listed by the Law Society as such and who has chosen to specialise in conveyancing; or
a licensed conveyancer – this is someone recognised by the Conveyancing Licensing Council (CLC) as such and who is for all intents and purposes a solicitor purely specialised in conveyancing; or
a conveyancing legal executive – this is someone recognised by the Institute of Legal Executives (ILEX) who has chosen to specialise in conveyancing.
Much of the day-to-day work of conveyancing, however, is carried out by paralegals – who are often termed conveyancers – these are people who've obtained experience working in the conveyancing departments of solicitor or CLC or ILEX firms – and these, as stated, are coordinated by a named person from the list above.
It would be wrong to assume that a conveyancer lacks experience; often conveyancers have worked for decades in their role and might have more knowledge and experience 'on the ground' than newly-qualified licensed conveyancers for example.
And to return to the question of 'cheap', value for money is a different metric and depends on the pricing and service levels of the individual firm involved. You can get shoddy work done by highly qualified people and conversely excellent, value for money and efficient work carried out by those without formal qualifications, as you can in so many other sectors.
What you want ideally is diligent professionals who love their work and making clients happy as our property lawyers do, and for a fair price. The exact make-up of a conveyancing department or firm and the titles that go with it can vary greatly however.
What type of property is the cheapest - house or a flat?
For the sake of argument, let's assume that for our comparison, the internal floor spaces are the same for our hypothetical house or flat and that both are in the same road and built at similar times. Conversely it's understood that your money will buy you far more on a remote Scottish island that it would on prime land in Mayfair, Central London!
Flats are always leasehold. This means that when you buy one, essentially you're buying a longer term rental agreement and most importantly, at some point in the future you'll have to give up your flat to the freeholder, who has rented it to you. One effect of this is that you have to pay a yearly ground rent, which might be quite small relatively, but might also double every 10 years or so.
You normally have to pay service charges to a management company (which works for the freeholder) which looks after the communal areas (stairs, lift if relevant, roof, any gardens etc.) and perhaps contribute money to occasional large work projects such as renewing a lift.
You may also face considerable restrictions on things like keeping pets or even making renovations or changes to the flat – with the latter, you might have to buy a one-off licence from your freeholder for example.
You'll often want to extend the number of years you own your property for; you can do this but you'll have to pay quite a lot to do so and the conveyancing and survey fees involved. You are legally allowed, subject to eligibility, to take over the ownership of your flat, along with others, although you'll own the block at least to start with as a share of freeholder and your flat itself will always remain a leasehold unless the whole nature of your block changes. Conversely, with a freehold, you are the sole owner – there is no renting involved. You never have to pay for things like lease extensions and you're free to keep pets and make alterations to your home unless e.g. your house Is a listed building or in National Trust-designated area or something similar.
You'll be solely responsible for any repairs or renovations, for example to the roof and you might well own a garden (back and/or front). You can also normally extend and/or convert a loft which you certainly can't do in a block of flats.
It can be seen from all the above comparisons that as a house owner – and houses are in the vast majority freeholds – the freehold title is clearly much more advantageous than a comparable leasehold and therefore it's much more valuable when it comes to selling up and more expensive when it comes to buying one.
There are some additional considerations. Although it's certainly cheaper to buy a flat than a comparable house, a flat, for the reasons above, is more expensive to maintain, so the cheapness perhaps ends after you've purchased. Also there has been a spate of new houses built in recent years, particularly under the Help to Buy scheme, which were designated as leasehold and incurred the kind of ongoing charges described above.
This has caused a scandal and last year, the Government put a stop to any new homes being built under the Help to Buy scheme being sold as leaseholds. That said, there are therefore a small but significant number which have now been added to existing housing stock, and you should take the appropriate legal advice before considering buying one, given the vast expenses which you might not have been prepared for further down the line.
Do I need Cheap Conveyancing Solicitors Near Me?
We are often asked about the merits using a solicitor firm which is physically based locally to you. But the fact that you can search online for conveyancing solicitors near me rather than even need to walk to your local high street should indicate that most cheap solicitors for first time buyers or home moves will have a website in place, ready to be found via the internet.
The fact is that your solicitor does not have to be based locally to you and in some situations you might end up paying more for this despite there being no reason to assume you'll get a better service for doing so. We invite you to read this article to find out more -
Do I Need Cheap Conveyancing Near Me
Do I need to look for Cheap Mortgage Solicitors?
When you buy or sell a home, your property lawyer not only carries out the legal side of the move for you but also acts simultaneously for your lender, so you never need to look for cheap mortgage solicitors when you're looking for conveyancing quotes.
Fixed Fee | Excellent Trustpilot Rating | No Sale No Fee | We include all legal fees in one low competitive conveyancing quote

Written by: Andrew Boast
Andrew started his career in 2000 working within conveyancing solicitor firms and grew hands on knowledge of a wide variety of conveyancing challenges and solutions. After helping in excess of 50,000 clients in his career, he uses all this experience within his article writing for SAM, mainstream
media
and his self published book
How to Buy a House Without Killing Anyone
.

Reviewed by: Caragh Bailey
Caragh is an excellent writer in her own right as well as an accomplished copy editor for both fiction and non-fiction books, news articles and editorials. She has written extensively for SAM for a variety of conveyancing, survey and mortgage related articles.