Buying a house for the first time - First time buyer guide
Buying a house for the first time is one of the hardest and stressful things you'll ever have to do. There are so many things that can go wrong when buying a house that are outside of your hands.
Whether it be a problem with getting a mortgage offer, a property that doesn't have building regulations or a seller who gazumps you. First time buyers need their own guide on what to do and when to do it.
The seller has the estate agent but who is there to help the buyer? This is where
SAM Conveyancing
can help.
We've written this first time buyer guide for you, not for the seller and not even for a second home mover.
T
his article will help you navigate the minefield of buying a house for the first time and explain each stage in a way that no solicitor has the time to do and no estate agent wants you to know - knowledge is power when buying a house for the first time.
We will give you links to free guides and useful articles to make sure you have everything you need all in one place. PLUS we won't just focus on if you are buying a freehold house, we will give advice for leaseholds and share of freeholds.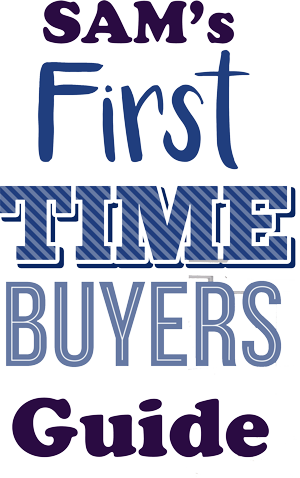 Buying First Home Checklist
Here is a checklist of steps that we go into more detail later on in this article.
2

Instruct a Conveyancing Solicitor
No matter what, every first time buyer will need to tick off this checklist even if you are buying a new home through Help to Buy or Shared Ownership. We'll explain how the affordable housing schemes can effect the different steps to buying your first home and how to overcome any challenges that may crop up.
When buying your first home the process can't start until you get your offer accepted. The industry average is 22 viewings before you finally get your offer accepted so here are just a few things to help:
Do your market research - before you visit the property make sure
Make a positive impression - you'll find that making a good impression with the seller will have the best impact on an offer you make. Most sellers want to give their property to someone they liked during the viewing even if their offer was marginally lower than someone else. This doesn't work for new builds
No 'low ball' offers - the phrase "if you don't ask, you don't get" doesn't apply in conveyancing. There are some occasions where you'll strike lucky with a low ball offer 20% under the asking price, however in most cases the estate agent will advise you the seller won't accept the offer. With this said it doesn't mean you can't make an offer that is lower, however do it based on your market research. Look for sold properties of similar size on the same street on Rightmove or Zoopla. Only use prices for unsold properties or under offer as an 'upper limit' guide because according to data from the National Association of Estate Agents, 82% of properties were sold under the original asking price.
2

Instruct a Conveyancing Solicitor
You need a conveyancer to handle the legal work for you and
you can't do it yourself
. You instruct your solicitor either just before, or more commonly, just after you get your offer accepted by the seller and the estate agent asks which solicitor you are using.
The estate agent will most likely push their own solicitor for your to use, but be careful here, they are employed to sell the property for the seller for the highest price as quickly as possible so it is always best to get an independent solicitor to protect your own interests.
We offer conveyancing solicitors and we get an Excellent rating on Trustpilot so using all our many years of experience here is what you should look for in your solicitor before instructing them:
Speak to them. At SAM we make a point of our clients speaking to us from the start. It helps to build a rapport and understand what you need to happen. Emails are great but it helps to speak directly to the person who is going to be helping you from start until finish.
Quote in the post. Whether it is a postal quote or a quote that takes more than a day to get sent to you via email these are the warning signs of a slow solicitor. Sending a quote at the start shows the solicitors commitment to you. Our quotes are emailed instantly online and we includes all the solicitors fees for buying a house as a first time buyer including any stamp duty relief.
Estimated/Based on the information. Warning alarm bells. These phrases are used by online solicitors or middlemen who lure you in for a cheap estimate that allows the solicitor to charge extra for work that should be included as standard.
Claim your Discount Code FIRSTTIMEBUYER5983
Fixed Fee (no estimates) | Rated Excellent on Trustpilot | No Sale No Fee | On all Mortgage Lender Panels
You will have started the process of getting a mortgage to buy your new home before you made an offer; most likely to get a general guide or an approval in principle. Now you have your offer accepted and a solicitor working on your file your main job is to finish off getting a mortgage offer.
The whole process can take between 3 to 5 weeks depending on the mortgage lender and time of year - you get an approval in principle, mortgage in principle, mortgage valuation and finally a mortgage offer. We explain the complete process for getting a mortgage here -
Mortgage Process
.
First Time Buyer Advice for Gifted Deposit
Most first time buyers get a gift to help them buy their first home. When applying for your mortgage make sure to notify your mortgage lender that your deposit is a gift and your solicitor will need you to complete the
Gifted Deposit Letter
.
When getting a mortgage this is one of the mandatory steps to buying your first home. Conveyancing searches include:
| | | |
| --- | --- | --- |
| Conveyancing Search | Who and what | How long? |
| Local Authority Search | Obtained from the council and includes information about planning permission, building regulations and rights of way. | |
| Water and Drainage Search | Shows where your water pipe enters the property and if your property is connected to a main line sewer. | Can take anywhere from 1 to 5 days. |
| Environmental Search | Shows if your property is built on contaminated land, ground stability, flooding and energy and infrastructure. | Delivered within 24 hours. |
| ChancelCheck | Confirms if your property has a liability to pay to repair the local church.. | Delivered within 24 hours. |
This isn't a mandatory step and for first time buyers you may be excited to see an opportunity to save money and not get a Home Buyers Survey. This is not advisable because other than your eyes, no one with any training has inspected the property to ensure there are no defects. Home buyers surveys are undertaken by qualified RICS surveyors.
First time home buyer guide to getting a survey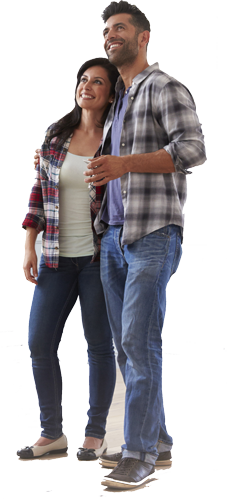 These are just some of the defects a survey can pick up and their costs to repair once you've moved in:
Damp - there are a huge number of reasons that damp may be present in your property from poor ventilation to water leaks. The worst kind of damp is caused by a breach to the damp proof layer and this can cost up to £20,000 to fix.
Infestations - rats, mice or wood worm. All of these can be identified within a survey however the cost to remove the infestation can go up to £3,000.
Subsidence - also known as continual movement. This is where the property is moving because the ground underneath it has moved causing the foundations to shift. Depending on the size of house you are buying it can cost in excess of £70,000. It is the worst defect a house can have however it is easy for a RICS surveyor to spot signs of subsidence.
Claim your £50 Discount from your HomeBuyers Survey Quote
Local RICS Surveyors | Rated Excellent on Trustpilot | Years of Experience | Delivered within 5 days
Your solicitor reviews all the legal documents and raises enquiries relating to missing or conflicting information from the seller. This review can't take place until the
draft contract pack
is sent from the seller's solicitor - it normally takes 1 to 3 weeks to be sent.
Enquiries could be as simple as asking for building control certificates for an extension to confirmation of a breach of a covenant in the title. Click to read a complete
list of legal enquiries
.
Exchange of contracts is the day where you become legally bound to buy the property; up until contracts are exchanged either you or the seller can pull out of buying the house.
Once all of the legal enquiries are satisfied by the seller's solicitor, the buyer's solicitor provides you with a report on title explaining about all they have found our about the property. This will be accompanied by the following documents:
Contract - it confirms the amount you are paying, the property, title number, names of the sellers and buyers, any special conditions and the standard conditions.
TR1 Form - signed and witnessed as a deed. This is the document that goes to the Land Registry to transfer the title from the seller to the buyer.
Stamp Duty Land Tax (SDLT) return - whether you are paying any stamp duty or not, an SDLT form is sent to HMRC to confirm a transaction has taken place.
Mortgage deed (if applicable) - signed and witnessed the mortgage deed is sent to the Land Registry to register the mortgage over the property.
A first time buyer guide to exchange of contracts with checklist to tick off.
The signed documents need to be returned to your solicitor in the post by special delivery. There is no such thing as an exchange date because exchange of contracts happens as soon as all parties are ready.
There is a completion date so make sure to agree a completion date with the seller through the estate agent. If you are buying a house then you need to have Building Insurance in place from exchange - if you are buying a leasehold this is covered as part of the freeholder's obligations and the cost shared between the leasehold flats.
Buying Your First New Build Home
This is the first part of the house buying process that materially changes when you buy a new build because exchange needs to take place within 28 days after contracts are received from the seller's solicitor.
The property may or may not be built by the time you exchange contracts so make sure your mortgage offer is in date by the time you get to completion (offers only last 6 months and can run out before the development is completed). Here are some of things to check off as a first time buying a new build:
Longstop date - make sure your solicitor puts a date into the contract whereby if the development deadline slips that there is a date that allows you to pull out and not incur contractual penalties.
Mortgage offer - if your mortgage offer expires ask your solicitor to write to your mortgage lender to get them to extend it. The lender will normally agree to a month or 2 extension.
Snagging - a new home doesn't mean it hasn't been completed properly. Make sure that you instruct a snagging survey to insepct the property after it has been built. Doors that don't close, leaking pipes and broken white goods are all snags that can be picked up and fixed before you move in.
Completion is the day you collect your keys and the property is yours. As you are buying a house for the first time you'll most likely complete before 12pm. This means your solicitor sends completion monies to the seller's solicitor and once received they agree to release the keys.
You will most likely collect your keys from the selling agent or from the seller as they leave. Read this article to find out exactly
what happens on completion day
.
A first time buyer guide to the completion day with checklist to tick off.
Proud of our Reviews


322 Google Reviews FREE Online Conveyancing Process for Buyers
Includes online checklists, videos, downloads and tips - plus it is completely free to use from start to finish and saves your progress along the way.
Log in