Negotiating Lease Extension - How to pay your freeholder less
Lease extension negotiations can be complicated, however in reality they are like any negotiation; one party wants more for less and the other less for more. The difference with negotiating a lease extension premium is that there is a set formula to work out what you should pay to extend your lease. Often challenges arise when the:
leaseholder serves a section 42 notice without a RICS valuation (see an example Section 42 Notice);
freeholders serve a section 45 notice without a RICS valuation (see an example Section 45 Notice);
property price is under or over valued in the leasehold valuation report;
offers aren't reflective of the actual lease extension premium; or
parties act unreasonably.
This article explains how to successfully negotiate with your freeholder, avoid costly negotiations, provides a downloadable lease extension letter to freeholder and reduce the need to go to the
Tribunal
.
At what point do you negotiate during the lease extension process?
Most negotiations start after the freeholder responds to the Section 42 Tenant Notice with their Section 45 Counter Notice declining the premium and putting forward their own premium. There can however be negotiations at an earlier stage prior to the leaseholder serving the Section 42 Notice which can reduce the need for negotiations at the Section 45 Notice stage. Here is an example of the process to best negotiate with your freeholder:
1

Get a RICS Lease Extension Valuation
Most specialist RICS surveyors offer a best and worst case scenario for what you should offer the freeholder to extend the lease using the statutory formula within the Leasehold Reform Act. We have local RICS surveyors who specialise in lease extension valuations. Call to get a quote 0333 344 3234 (local call charges apply).
Can you negotiate lease extension using an online calculator?
Lease extension calculators give an indication of what premium to budget for, however won't be accepted by your freeholder as evidence of the actual premium to pay because the calculator is based on what you have input. The freeholder will argue you aren't qualified to value the property nor can you confirm the term rate, Reversionary Rate and Relativity. A qualified RICS surveyor who is trained to provide these answers is what the freeholder would expect to see.
If you do use an online calculator to value the premium to be included within your section 42 notice, be prepared for the extra costs in negotiation and, potentially, the need to then pay for a valuation to properly evidence your offer.
Read more on how to value a lease extension premium
.
2

Contact your freeholder to start negotiating lease extension
This is a critical step and one often missed. If you have direct contact with your freeholder or management company you can write to them informing them of your intention to formally extend your lease under the Leasehold Reform Act. At this stage there are no costs involved as you aren't paying a solicitor or surveyor to do this for you and there is no downside because if the the freeholder:
ignores you, then you can move forward with serving the Section 42 Notice through your solicitor;
doesn't agree and puts forward their premium, giving you insight into their expectations so you can compare with your valuation; or
agrees with your offer and asks for you to move forward with the formal lease extension.
You may struggle to agree a pre-section 42 notice premium if your freeholder is the council or has a large management company as they normally only respond to a formal notice to extend.
Download our template letter
Not sure how to negotiate your lease extension? Don't worry, download our free template letter which gets you off to the right start in negotiations with your freeholder.
Drafted by Lease Extension Specialists - Need Help? Call 0207 112 5388
3

Serve Section 42 Tenant Notice
Based on the response from your freeholder to your initial communications you can now instruct your solicitor to serve the section 42 notice on the freeholder. You will need to choose on the amount to include in the S.42 Offer, however here are a few things to think about:
Starting too low - it would be great to get the premium for less money, however starting too low could lead the freeholder to put in a too high offer or they may choose to obtain their own valuation (at your expense). With a reasonable offer a freeholder may choose not to get their own valuation and agree to your offer.
Starting too high - you may miss an opportunity to get a more reasonable premium if you start at the highest level your surveyor calculates the premium should be.
What was the freeholder's response to your first contact? - the objective of making contact with the freeholder before you serve a section 42 notice is so that you can get them to agree in principle to extend based on the premium you put forward. The freeholder can of course change their minds further down the line, however this is fairly unlikely.
The best advice is to put forward a reasonable offer somewhere just below the middle between the best and the worst premium within your surveyors valuation.
4

Receive Section 45 Counter Notice
This is where you'll see if the freeholder has accepted your offer or if they don't accept your offer. If the freeholder doesn't accept your offer they will propose a revised counter-offer.
5

Negotiating Lease Extension with Freeholder, or Accept the Counter-Offer?
If the freeholder does not agree with your premium offered then you need to decide:
Accept the Freeholder's Counter-Offer - it may well be that the freeholder's counter-offer is not too dissimilar to your original offer and you are happy to proceed or you feel the difference between your offer and the freeholder's offer does not merit spending additional money negotiating; or
Instruct your surveyor to negotiate - the negotiation should take place between your surveyor and the freeholder's surveyor to work out what the difference in the two valuations is and to put forward why they feel their valuation is correct. You'll see below why there can be differences in the surveyor's reports. The cost to negotiate is often charged at an hourly rate between £150 to £300 per hour. You should weigh the cost benefit of negotiating as 3 hours in negotiating could equal £1,000 and if the difference is only £1,500 then you could end up spending more money negotiating than the difference in premium. For more about this subject, please read our article Can't agree terms with your freeholder?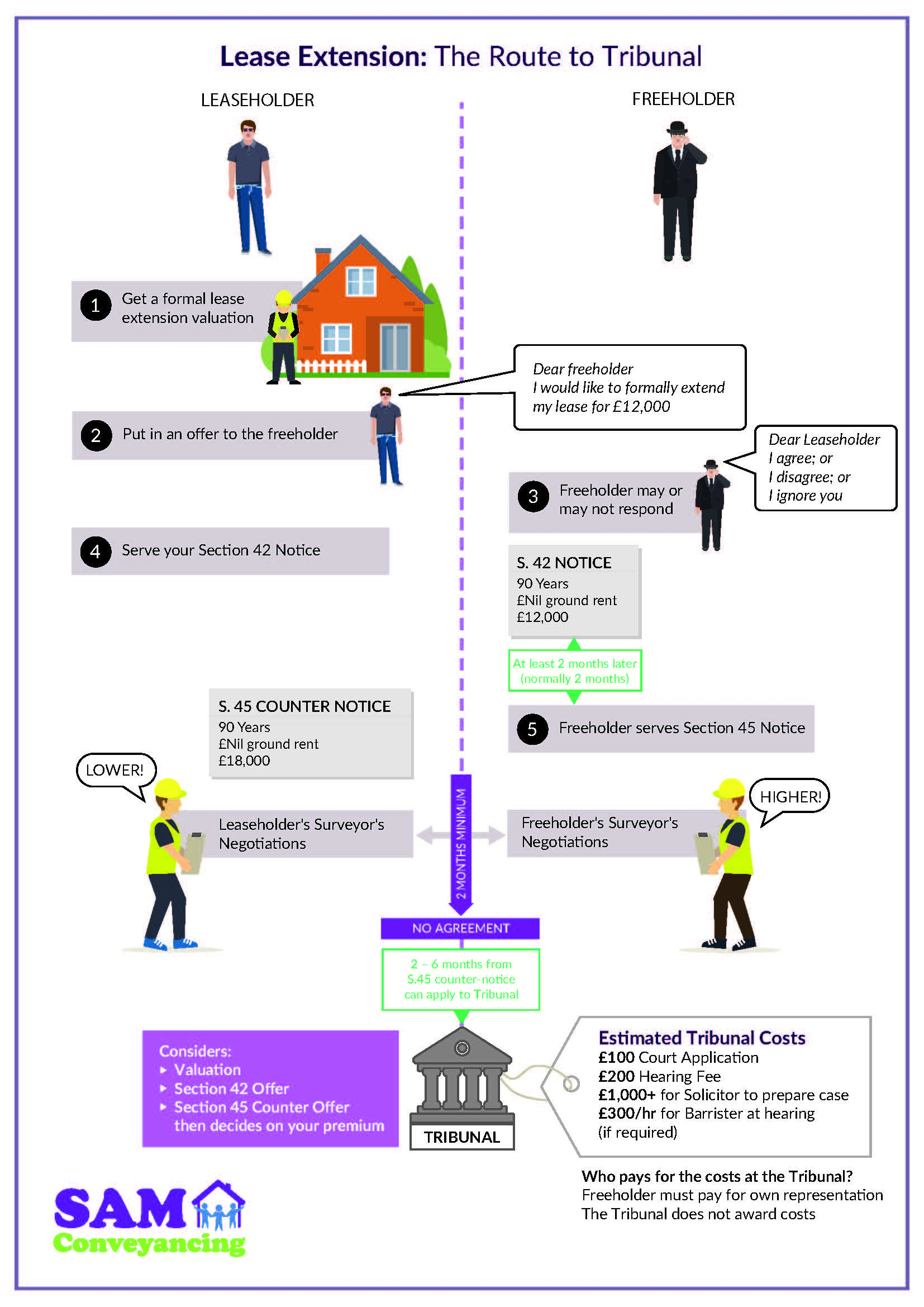 Frequently Asked Questions
Lease extension valuations take into consideration 5 key metrics:
Value of the property with a short lease
Value of the property with an extended lease
Term rate
Reversionary Rate
Relativity
There could be a dispute over the rate applied or the value of the property with a short or extended lease.
An informal lease extension is one where a freeholder has put forward a proposal to extend the term of a leasehold but not providing the statutory provisions such as an extension of 90 years onto the current lease term and a peppercorn ground rent. Although you can attempt to negotiate an informal offer you cannot use the formal statutory lease extension rules to do so. You can read more about an
informal lease extension
.
With an informal voluntary lease extension you need to not just negotiate the premium, you also need to negotiate the ground rent. In most informal offers, freeholders look to increase the annual ground rent and potentially include a clause that doubles the ground rent every 10 or 25 years. You can read more about
doubling ground rent here
. Doubling ground rent clauses can cause issues on sale.
If after 2 months the premium is not agreed there is a further four month window for you to apply to the Tribunal to ask the Tribunal to determine the terms and the premium to be paid. Applications to the Tribunal are common, however nearly all lease extension claims will settle before the Tribunal hearing date. There is no advantage to either party proceeding to Tribunal unless it is necessary because of the costs. Furthermore, the Tribunal has limited powers to award costs and therefore each party is liable for their own costs and no ability to recover them from the other party even if they win.
You cannot apply to Tribunal if your application is made after 6 months from the date of the S.45 Counter-Notice. If you miss the deadline then you may be faced with having to either wait 12 months to start again or agree an informal lease extension which may have unfavourable terms.
Proud of our Reviews


322 Google Reviews FREE Online Conveyancing Process for Buyers
Includes online checklists, videos, downloads and tips - plus it is completely free to use from start to finish and saves your progress along the way.
Log in