House in Multiple Occupation HMO Regulations
A house in multiple occupation (HMO) is a property rented out by at least 3 people who are not from one 'household' (for example a family), but share facilities like the bathroom and kitchen. It's sometimes called a 'house share'. Legally you need to have a special HMO licence for each HMO you run. This article concerns House in Multiple Occupation HMO regulations and related matters.
Many landlords let out HMOs as they consider them a more efficient way to run a rental portfolio (sometimes due to being able to collect rent from a higher number of tenants, although location and property type are also drivers in the decision).
Some renters choose to live in HMOs as monthly payments are often cheaper and they may prefer to live with more people. House-shares are particularly common among younger renters and students and, as more people rent for longer, Houses in multiple occupation continue to be a viable option for some landlords.
Looking at buying an HMO/House in Multiple Occupation?
Our experienced property lawyers are adept at ensuring that what you're buying is what it purports to be and carefully scrutinise fire and gas safety records as well as
planning permission
and
building control
where relevant.
* Fixed Fee – No Sale No Fee – On all Mortgage Lender Panels
Should you yourself be thinking of converting a property into an HMO, there are a number of steps that you'll need to take; from meeting essential HMO licence requirements to making the property habitable for more people. 
If you are looking at buying an HMO which is already functioning, you should brief yourself on House in Multiple Occupation HMO regulations not least because of the recent tightening of related legislation.
This article focuses on:
1

Who needs an HMO Licence?
Who definitely needs an HMO licence?
You'll definitely need a house in multiple occupation licence in England and Wales if all of the following apply, either for a house you're buying to rent out or if they'll apply once you've finished converting, because by law, the property will then be classed as a large HMO:
it is rented to 5 or more people who form more than 1 household;
some or all tenants share toilet, bathroom or kitchen facilities; and
at least 1 tenant pays rent (or their employer pays it for them).
Who might need an HMO licence?
However, even if your property is smaller and rented to fewer people you should always check with your local council as to whether you'll still need an HMO licence because the exact definitions and conditions vary from council to council although the Act above should always be consulted.
Find out which local council is responsible for HMO licensing matters in your area
In the article which follows, we selected Surrey Heath Council as a sample council to examine how the HMO licensing process works. You'll find online application forms that you'll need on your relevant council's website.
HMO Licence Fines
If you let out a house in multiple occupation and it is licensable in law, it's an offence carrying a maximum £20,000 if you're convicted in a magistrate's court. The person who controls or manages the property is liable to be summonsed for this offence and is liable to pay whatever fine is imposed.
In addition, you might in certain cases have to repay tenants' rent or similarly housing benefit paid by local authorities.
Tenants and former tenants who lived at the unlicensed property can apply to the Residential Property Tribunal (RPT) for a Rent Repayment Order (RRO) to reclaim rent they've paid for a maximum of 12 months and the RPT will decide whether to award an RRO and what value it should be.
£5,000 fine for non-compliance with HMO licence conditions
Anyone failing to comply with licence conditions placed on them commits an offence which could result in a fine of up to £5,000 per offence.
You should note, however, that enforcement - and what is considered non-compliance with licence conditions - can vary greatly.
According to one experienced HMO landlord we spoke to:
"The main focus of an inspection is on fire safety – smoke and heat detectors on each floor and in the kitchen and fire doors on all bedrooms, living room and kitchen and of course a robust, working fire alarm system which is demonstrably sufficiently regularly tested."
2

What is the HMO Licence application procedure?
What are the HMO Licence Requirements/Licence Conditions?
What is notable is that the new HMO regulations 2018 ushered in considerable HMO licence changes, in particular a minimum room size requirement.
The property is suitable for occupation by the number of people on the application.
The minimum standards for room sizes of 6.52 square metres for a single person and 10.23 square metres for a couple has been met.
The property has adequate facilities for the number of people on the application.
The proposed licence holder is a fit and proper person.
The property management is satisfactory.
What is a Fit and Proper Person?
HMO applications require you to be a fit and proper person, which means on the one hand you have to give details of any criminal convictions you have and on the other, you can help your application by showing that you've had training or experience that will help you in your intended role as an HMO landlord.
There are no hard and fast rules here from the house in multiple occupation HMO regulations; if you have a chequered history involving crimes like fraud, violence, dishonesty, drug use and discrimination, you can expect this to stand against your application.
By applying you should note that you are automatically giving consent to the relevant local council to check any records held about you from the Police, the Fire Service, the Office of Fair Trading and any other relevant public organisations which it sees fit to contact.
What additional conditions may be attached to the licence?
Provision of a gas safety certificate if not provided with the application.
Evidence that the appliances and furnishings are in a safe condition.
Evidence that the property has an adequate means of escape from fire.
Requirement for additional amenities.
What information and evidence is required for the HMO Licence application?
A plan of the property.
A landlord's gas safety certificate - click to find out more (NB: you'll need to send a valid one to your local council each year once you've received your licence)
Relevant planning and building control documents.
A current inspection report from a competent electrician.
BS5839 test reports relating to the fire detection system (if applicable).
BS5266 test reports relating to the fire detection system (if applicable).
Fire Safety is key in any HMO Licence application
In House in Multiple Occupation HMO regulations, matters of fire safety are particularly important in HMO Licence applications for obvious reasons. Click if you wish to find out more about
fire risk assessments for flats
in general.
What happens once you've sent over the documents and evidence?
Surrey Heath Borough Council state that they carry out an inspection to check on the application before they'll issue you with an HMO licence however this might not be the case with all councils.
In Surrey Heath's case they state that you should not assume your application has been successful if you haven't heard from them for '56 days' but that you should contact them to find out more.
What happens if your application is turned down?
Surrey Heath state that you should contact them in the first instance and after that you may appeal to a residential property tribunal but that any appeal must be made within 28 days of the decision being made.
3

HMO Licence validity periods and costs
How long does the HMO Licence last for and how do you renew it?
It lasts for 5 years after which you have to apply for a new one.
How much does an HMO Licence cost?
As one example, Surrey Heath Borough Council charge £675 for one as of March 2019 and a renewal costs the same price.
But as another - and to show that you really have to check your relevant council's details carefully - Wandsworth London Borough Council's tariffs are far more complicated; you have to pay 2 sets of fees, one for the application and inspection (between £717 and £1,161 depending on the number of bedrooms) and one for the grant of the licence itself (£444). It was unclear how much this council's HMO licence renewal fees are.
As stated previously you'll need to have a separate licence for each HMO you run.
If you're buying a property to convert to an HMO or even if you've bought one already styled as one, you may opt to or even have to make changes to the fabric of the property which may often require appropriate
planning permission
and sign-off from
building control
.
You may need to convert spare rooms to additional bathrooms for example and reception rooms to additional bedrooms. Additionally you'll have to work in adequate room sizes as you progress. 
If you decide to convert a garage as part of an HMO, you should note that this will invariably require separate planning permission itself and there are stringent building control regulations which accompany such a conversion: access to utilities and a double-skin of bricks, for example, are essential.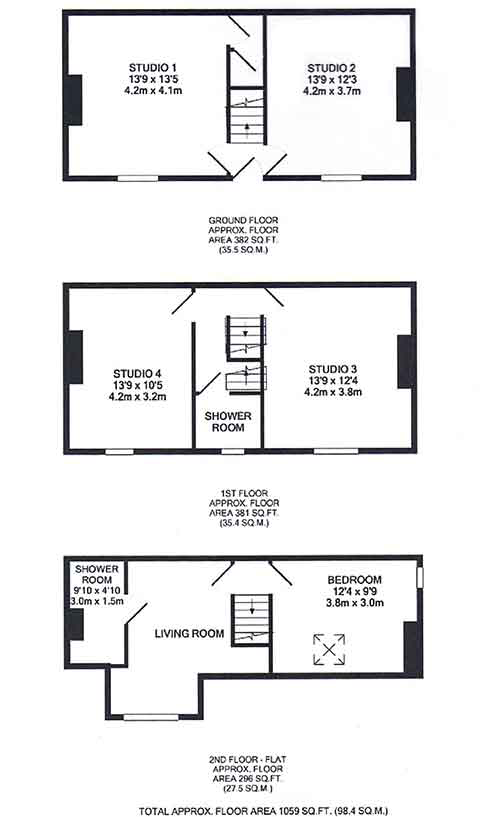 Looking at buying an HMO/House in Multiple Occupation?
Our experienced property lawyers are adept at ensuring that what you're buying is what it purports to be and carefully scrutinise fire and gas safety records as well as planning permission and building control where relevant.
* Fixed Fee – No Sale No Fee – On all Mortgage Lender Panels
Proud of our Reviews


322 Google Reviews FREE Online Conveyancing Process for Buyers
Includes online checklists, videos, downloads and tips - plus it is completely free to use from start to finish and saves your progress along the way.
Log in