Birmingham House Prices Outstrip London
Birmingham house prices outstrip London in terms of rises - the UK's second city's property prices increased by around £30,000 on average between April 2015 and April 2018, and most experts think that they are going to continue to surge. 
However, as of October 2018, the Midlands metropolis was the most popular city area for first time buyers to get a foot on the property ladder in as evidenced by the number of people recorded by the Land Registry as taking up Chancellor Hammond's first time buyer relief.
The second most popular city was
Leeds
, but Birmingham's applications outstripped Leeds' by nearly 40%.
Read on for more information related to housing in Britain's second city with its frequent new developments.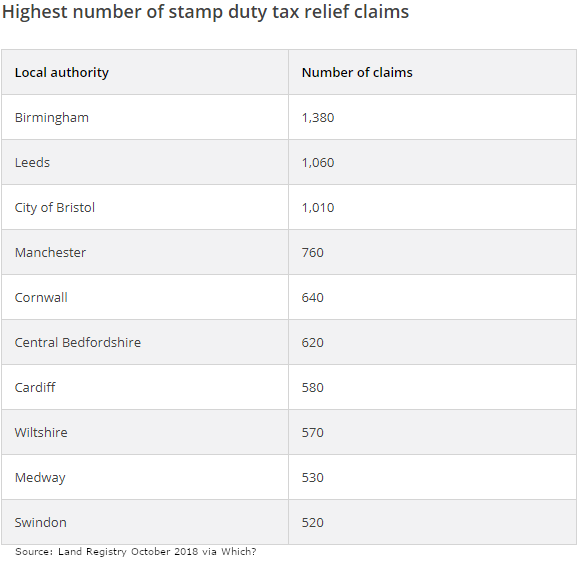 The price of a house in Britain's second city has seen a fairly constant rise in recent years despite the rate of climb levelling out: in April 2015, house prices in Birmingham increased by 5.8% year-on-year and continue to rise by around 6% each year. In comparison, London's average house prices rose just 1% during 2017 compared to 9.4% during 2015.
Average house prices in the whole of the United Kingdom continue to increase although the level of increase is declining. Where house prices previously rose by an average of 7.2% per year between 2014 and 2016, the increase from 2016 - 2018 fell to 5.3% (Source: Land Registry, June 2018).
Postcode Variations
House prices in different areas of Birmingham are increasing by variable rates. Flats in the postcode area B31 have seen a 14% increase whereas flats in B13 have shown an increase of 17%.
In general, the number of house sales in Birmingham has shown a drastic decrease. In April 2017 1,679 properties were sold, compared to only 477 in April 2018. House price increases outstripping wage rises have been a factor in encouraging people to rent rather than buy.
Birmingham Property Prices 2018
| | |
| --- | --- |
| Detached: | £334,928 |
| Semi-detached: | £199,274 |
| Terrace: | £159,308 |
| Flats and maisonettes: | £129,958 |
| Average: | £177,828 |
| Cf. 2017 | +6% |
Source: Land Registry UK House Price Index 2018
Birmingham gives go-ahead for first modular home
In January 2019, Birmingham Municipal Housing Trust (BMHT), Birmingham City Council's house-building arm, received planning permission to install its first modular home.
To be located in Heaton Street in Hockley, the two-bedroom house will include both a parking space and a back garden and is set to be let as social housing.
Traditionally, modular housing has been more commonly seen in Northern Europe and China rather than in the UK, where it has been severely under-utilised. Yet, it provides an opportunity for house building at an increased scale as well as unlocking land that is difficult to access and which, could not be used by traditional bricks and mortar houses.
Birmingham - Empty Property Premium: 200% council tax payable from April 2019
As with many councils, Birmingham seeks to discourage landlords and freeholders leaving properties empty and unoccupied and most unoccupied properties attract a full council tax charge, whether furnished or not.
Properties that are unoccupied and unfurnished for two years or more may also attract a 50% up to 31 March 2019 and 100% from 1 April 2019 premium charge.
From 1 April 2019 under Section 11b of the Local Government Finance Act 1992 as amended by the Local Government Finance Act 2012 and Rating (Property in Common Occupation) and Council Tax (Empty Dwellings) Act 2018, Birmingham City Council has determined that in respect of the whole of area properties that have been unoccupied and substantially unfurnished for 2 years or more will be subject to a 100% premium effective from 1 April 2019. The Council Tax payer will have to pay 200% of the Council Tax charge.
The premium was set at 50% and from 1 April 2019 this will go up to 100%. This means that if you are a freeholder, leaseholder or landlord and you own a property which has been empty and unfurnished for two years or more, you will be charged an extra 50% up to 31 March 2019 and 100% from 1 April 2019 Council Tax on top of the full Council Tax for the property.
As this premium applies to the property, a change of ownership or tenancy will not affect it and if when purchased or leased it had already been empty and unfurnished for 2 years or more then the purchaser/lessee has to pay a 200% Council Tax charge which can only be removed by bringing the property back into use.
The following article (continues below) looks at recent news regarding Birmingham's property scene. Click here to find out more about buying a home in Birmingham.
Birmingham Housing Overview
Being the second largest city in the United Kingdom, Birmingham has a wide variety of housing types. There are almost two thousand listed building and ancient monuments in Birmingham such as the Perry Packhorse Bridge, known as the Zig Zag Bridge, and Weoley Castle.
There are many Victorian terrace houses in the city. Rows upon rows of them lie on streets such as Frances Road and Emerson Road. A lot of Victorian architecture, like that of the old Central Library, was replaced during the post-war redevelopment by brutalist buildings.
There are a number of Georgian properties still standing such as St Paul's Cathedral, the Town Hall and Soho House which is now a museum. Large Georgian townhouses and detached houses are available in Birmingham such as those in Sutton Coldfield and Edgbaston.
New developments and houses are available for off-plan investments and Help to Buy mortgages. All in all, at this point in time it comes as no surprise to pundits that Birmingham house prices outstrip London in terms of percentage price increases.
Off-Plan
St Paul's Chambers is a new block of flats in which there are seven 2 bedroom apartments right in the centre of the city that are designed for contemporary living. Knightlow Park is a new development with 3 or 4 bedroom detached houses with large gardens. There are many other new build properties dotted around the city and many more are being completed. There are many off-plan investment opportunities in Birmingham as blocks of flats are becoming more popular.
Help to Buy
There are lots of flats in Birmingham that fall under the Help to Buy scheme. These new build flats are available on streets such as Alcester Road. There are also Help to Buy detached properties available in the new development Fore Meadows and Walmley Croft.
Shared Ownership
Properties available for shared ownership include those on Sheldon Avenue and City Road. These are mostly new builds but there are resale properties available on Norfolk Road and Etruria Green.
Rental Scene
The average rental price in Birmingham in June 2018 were £217 per week and the rental price range varies from £147 - £355 per week.
Postcodes
Postcodes in Birmingham are B1 to B99.
Most expensive Birmingham Street
Bracebridge Road has the highest average house price of £1,470,00 (2014).
Up and coming local areas
Up and coming local areas include Solihull, Sutton Coldfield and Dudley.
Proud of our Reviews


322 Google Reviews FREE Online Conveyancing Process for Buyers
Includes online checklists, videos, downloads and tips - plus it is completely free to use from start to finish and saves your progress along the way.
Log in