What rights do tenants in common have regarding the property?
As tenants in common, each person has their own share in a property which is distinct, legally, from the other tenants in common. Tenants in common may hold different sized beneficial shares in a property - there is no requirement for the shares to be of equal size.
What happens when the property is sold?
Tenants in common can mutually agree to sell their property, in which case all benefits and costs are divided according to the size of each tenant in common's individual share of the property. Tenants in common can freely and independently each sell their own individual share in a property or mortgage it or leave it in a will to any person they choose. Any sharer could, for example, move out of a house, having sold their share and rights to the property to any third party.
Important: As relationships can break down between tenants in common it is important to ensure you have pre-agreed what happens when either party wants to sell their share in the property if the relationship falls apart. This is a clause that should form part of a written express trust ('deed of trust').
What happens if one of the tenants in common dies?
If one of joint owners dies, their beneficial interest in the property passes onto their estate which will be distributed in accordance with their will, or in line with
intestate laws
if they don't have a will.
This is one of the largest differences between owning the property as tenants in common and
joint tenants
because as joint tenants, the deceased's beneficial interest automatically passes to the surviving joint owner.
Can I pass on my ownership of the property to anyone when I die?
Yes. Your beneficial share of the property will pass to your estate so it is important to draft a will when you buy a property with someone else so that it is clearly stated who will benefit from your share of the property when you die.
Tenants in common must draw up a legal agreement to protect each tenants' individual interests when they live in a property.
They may, for example, want to control exactly who can move in if one tenant in common decides to sell their share or if a tenant passes away.
No help for tenants in common in 'common law marriage'
The legal changes do not give any assistance to cohabiting people who are neither married or civil partners. Cohabiting couples were the fastest growing family type in the UK between 1996 and 2016; their numbers more than doubled from 1.5 million to 3.3 million The number of cohabiting couples in the UK has almost doubled between 1996 - 2012 from
1.5 million
to
2.9 million
, according to the Office for National Statistics (click here for more
Government statistical information about Families and Households
)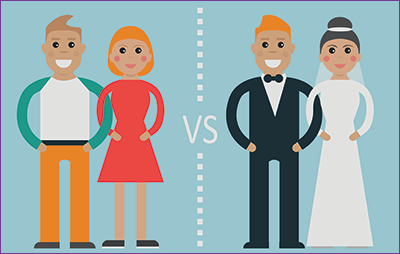 These figures may be a considerable underestimate. Despite legal and cultural improvements in the position of lesbians, gays, bisexuals and transgenders, undoubtedly many members of this group who cohabit do not widely report it. These people, when they buy properties together, are invariably buying as tenants-in-common. And it is when one of the partners dies intestate that devastating issues can arise, which may, for example lead to a surviving partner having to leave a previously shared property with no financial recompense.
The Government is not likely to change its legislative position soon but there are other legal devices available, which are generally referred to as deed of trusts. These can do much to protect the interests of tenants in common who are not married to or in civil partnerships.
Joint Tenancy vs Tenants in Common
Any prospective sharers should also be aware of the distinction between a joint ownership agreement drawn up as a joint tenancy as opposed to tenants in common.
A joint tenancy, which is the case with a married couple, means that if one partner dies then all of the interests in the property pass to the surviving partner. A Deed of Trust which states that the arrangement will be as 'tenants in common' means that if any of the partners die, then their share will not pass to any survivor but will pass onto whoever the deceased person has previously nominated.
If a joint ownership agreement is drawn up as 'tenants in common' it would normally follow that each partner has drawn up a will stating how their share is to be disposed of in the event of a tenants-in-common death. The device is particularly useful when a partners in a property hold unequal shares as it will set out exactly what percentage each partner owns.
Are you buying as tenants in common and need a Deed of Trust?
Protecting your interests when buying as tenants in common is important which is why we offer a variety of deed of trusts to suit the relationship you have with your joint owner:
Gold Deed of Trust for short-term friends and bespoke trusts
Fixed Fee – Trusts to Suit Your Circumstances – Fast Turnaround (deeds issued within 1 to 3 days after instruction)
No time for forms and want to call? Call us on 0333 344 3234 (local call charges apply Mon-Fri 8am to 6pm)