Help to Buy Authority to Exchange Contracts
Help to Buy Authority to Exchange (ATE) Contracts is a document which your local Help to Buy agent issues to your conveyancing solicitor granting them the right to exchange contracts with the developer of your property. 
Whereas in a normal conveyancing purchase you can exchange as soon as you are ready, with a Help to Buy purchase you cannot exchange until you get the ATE. This can add 3 to 5 working days to the exchange right at the point where you want to move quickly.
This article gives an overview of this final stage of the Help to Buy Application Process and explains what you can do to speed it up:
1

What is the Authority to Proceed?
Every step of the Help to Buy Process explained with timelines. Read before you exchange.
2

What happens before you can request an Authority to Exchange?
Your Help to Buy local agent sends the Authority to Proceed document (ATP) to you, your property developer and your solicitor - this confirms that you meet the criteria for the scheme and things can go ahead.
Your ATP technically expires in 3 months - i.e.
exchange of contracts
must take place within this time period - however it's highly unlikely that this part of the process will take this long.
Finalise New Build Enquiries
They inspect the information about the property provided by the developer and, on the basis of this,
raise any enquiries
which they think are appropriate. 
They might also raise enquiries depending on information received when the
property searches
are returned (click to find out more) - you might have to pay for some or all of these, depending on the incentives offered by the developer.
In the case of a property which has been built, you are highly advised to get a
snagging survey
(click to find out more) and the solicitor can raise further enquiries on the basis of this if the survey report has uncovered any major issues.
When the valuation has been returned if the lender has agreed that the valuation matches the sale price, it sends you and your solicitor your mortgage offer which you have to sign and send back. 
Your solicitor will also have passed on what is called the Help to Buy charge document to the lender - this sets out the nature of the second charge on the property which paying back the equity loan has.
Report on Title
Once all the enquiries have been returned or exhausted, your solicitor gives you your final report on title in preparation for exchange and once you've agreed to go ahead on that basis you'll agree a date for exchange.
Want to buy via Help to Buy?
Our experienced CQS property lawyers can guide you through from your Help to Buy application through to Authority to Exchange to successful completion.
Fixed Fee | No Sale No Fee | On all Mortgage Lender Panels | 28 Day exchanges
3

Request Authority to Exchange
At least 5 days before the planned exchange date, your solicitor has to send your local Help to Buy agent what is known as Solicitors Form 1. 
This carries confirmation of your mortgage offer (you must have signed and returned the original mortgage offer to your lender), the valuation figure and what your exchange deposit will be.
The form also includes the Council of Mortgage Lenders (CML) form which lists any incentives the developer has offered you, such as turfing your garden, white goods, paying your stamp duty or other discounts. 
The total value of any monetary incentives should not be more than 5% of the value of the property.
Solicitors Form 1 requests approval to exchange contracts from your Help to Buy agent. 
Within 3 days of receipt of the form and assuming all the forms are accurate and consistent, your Help to Buy agent approves the exchange and issues your solicitor the Authority to Exchange.
4

When is completion after ATE?
As with any exchange of contracts in conveyancing under UK law, this commits both you and the developer to complete the purchase. 
How long is your Authority to Exchange valid?
Your Authority to Exchange is valid for 28 days. If this period expires (it shouldn't normally) your solicitor will have to submit a new Form One.
Completion date?
Normally a completion date is fixed when contracts are exchanged; this is the case if your property has been built. If it has not, then the developer has to give an estimated build date.
If your property has been built you may well complete shortly after exchange. The 6 month period is designed to allow for properties which haven't been built at the point of exchange.
Confirmation of Exchange
Following the exchange, your solicitor will need to submit a Confirmation of Exchange Form to Help to Buy within 2 working days of exchange.
Confirmation to Developer
When your property is ready and (or, if the property has already been built) you and the developer know the exact date when you want to complete your purchase, your solicitor sends Form Two to your Help to Buy agent which is essentially a request for the authority to complete.
Within 3 working days of this submission and after checking, your Help to Buy agent issues the Confirmation to Developer. This confirms that the Help to Buy funds will be released to the developer and that the developer can go ahead with completion.
NB Help to Buy requires 12 working days to release the funds, although some developers are happy to complete in advance of them receiving the funds, subject to the Confirmation to Developer being received. 
Smaller developers might need to allow enough time for the equity loan portion to be transferred from the Government and they should allow 15 working days for the money to come through, just in case of any delays.
Help to Buy Off-Plan purchase? Delays might mean your mortgage offer expires
Standard mortgage offers last for between 3 and 6 months. If the building of your Help to Buy property is delayed, your mortgage offer might expire. 
Depending on your lender, you might be able to get an extension of a month, for example, but they do not have to offer you this facility. If you cannot get an extension, you'll have to start - and pay for - a whole new mortgage application.
For this reason you should remain aware of your credit rating and beware of your circumstances changing negatively: you might not be able to secure as large a mortgage in these circumstances.
Proud of our Reviews


322 Google Reviews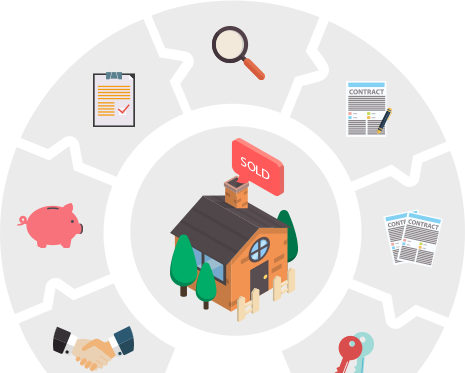 FREE Online Conveyancing Process for Buyers
Includes online checklists, videos, downloads and tips - plus it is completely free to use from start to finish and saves your progress along the way.
Log in