Help to Buy Authority to Proceed
Your Help to Buy Authority to Proceed (ATP) is a key stage in the
Help to Buy Application Process
when you are looking to buy a property through the Government scheme. It represents when you've had initial eligibility clearance from your local Help to Buy agent regarding your affordability and the property you're looking to buy.
The key point to note is that it is your responsibility to obtain the authority to proceed and provide this to your solicitor and mortgage lender; neither of the latter can help you obtain this.
Once the ATP has been granted, your local Help to Buy agent sends you, your solicitor (you have to have one in place as one condition of getting your ATP) and the developer a copy and you can then start the formal
conveyancing process
. The developer's solicitor won't issue contracts to your solicitor until the ATP has been released.
You must also pass on a copy of the document to your mortgage broker/financial advisor (if you are using one and you are advised to do so) so they can find the right mortgage for you.
You should note, however, that as in a standard conveyancing process, as a mortgage buyer not only must you still obtain a formal mortgage (a
Help to Buy Mortgage
in this case) to proceed but the Authority to Proceed comes with certain conditions regarding any mortgage granted itself: more on this below.
This article examines:
---
1

What is the eligibility for Help to Buy and the initial process?
Before you start, you need to check that you're actually eligible for the Help to Buy (Equity Loan) scheme:
1

You must be a first time buyer or a home mover: you cannot buy as a company.
2

You cannot own any other property in the world at the time of purchase.
3

You cannot have any overdue payments on any loans, any county court judgments (CCJs) against you for more than £500 nor can you be subject to a bankruptcy order within the last 3 years.
4

You have to contribute a minimum 5% deposit towards the purchase of the property.
5

You cannot be buying to let, nor can you let a spare room in the property.
6

You can only buy using a repayment mortgage; you cannot get an offset, interest-only or guarantor mortgage.
6

You can only buy using a repayment mortgage; you cannot get an offset, interest-only or guarantor mortgage.
7

You cannot use any other Government scheme in conjunction with Help to Buy, nor can you get Government funding to provide your deposit - this does not apply to the use of a Help to Buy ISA.
8

The maximum buying price of any property cannot exceed £600,000.
In the 2018 Autumn Budget, Chancellor Philip Hammond announced that the Help to Buy equity loans scheme will be changed from April 2021.
From 2021 until 2023, Help to Buy equity loans will only be available to first-time buyers, and regional property price caps will apply. These will be set at 1.5 times the current (autumn 2018) forecast regional average first-time buyer price, meaning the maximum property price you'll be able to take out a Help to Buy loan on will be:
| REGION: | MAXIMUM PROPERTY PRICE: |
| --- | --- |
| North East | £186,100 |
| North West | £224,400 |
| Yorkshire and the Humber | £228,100 |
| East Midlands | £261,900 |
| West Midlands | £255,600 |
| East of England | £407,400 |
| London | £600,000 (unchanged) |
| South East | £437,600 |
| South West | £349,000 |
Process
Firstly you should look on your local Help to Buy website to give you locations of properties you might want to buy and when you've 'homed in' on one or a few, you should examine and/or download the appropriate brochures and, arrange a site visit - even if the property isn't built yet, the developer invariably has an office nearby to the site where you can 'get a feel' for what you're looking to buy - they are likely to have mock-ups of the planned premises.
Then you'll need to formally reserve your home with the developer, filling in the appropriate paperwork and paying over your reservation deposit. This deposit comes off the price of your home after you've completed. The developer gives you a Reservation Form which acknowledges that you have reserved your Help to Buy property with your developer and paid over the appropriate fee.
NB You'll need to instruct a solicitor at this point because you'll have to provide details of your solicitor in your Help to Buy Equity Loan application form.
You can find this form on your Help to Buy agent's online portal and you can print it out and complete and send it 'on paper' or you can send your application back online.
The application form has various parts, starting with an affordability questionnaire and requires various attachments; you have to attach a reservation form and proof of reservation of your property, a declaration and possibly a direct debit form for the payment of your application fees to your Help to Buy agent. Most importantly it has a Property Information Form.
Property Information Form - not to be confused with form TA6
The Help to Buy property information form is not the same as
Property Information Form TA6
(click to find out more) which is what vendors have to fill out when they're selling a property for the buyer at the beginning of a standard conveyancing process.
Once your agent has received your application, they check to ensure you're eligible for the scheme and that you can sustain the purchase financially and are unlikely to get into financial difficulty if your loan is granted. If you're approved, you then receive your Authority to Proceed.
Getting your Authority to Proceed summarised
1

Visit your local Help to Buy agent's website and use it to guide you to a property you like from among the various developers' projects available.
2

Complete and return the developer's reservation form and pay the requisite fee (you'll either do this online or by visiting the developer's physical office). The developer gives you a the property information form and your receipt for the fee paid.
3

Instruct your Help to Buy conveyancing solicitor.
4

Complete and return your Help to Buy Equity Loan application form; you can do this online on your local Help to Buy agent's website or you can visit the site, print out the form, complete it and return it through the post. NB You have to attach your developer's property information form, receipt for your reservation fee and details of your chosen solicitor.
5

Your Help to Buy agent issues your Authority to Proceed within 4 days if you have been accepted, or to tell you that you've been rejected.
2

What are the time frames up to receiving your Help to Buy Authority to Proceed?
Naturally you can spend as long - or as short - as you like choosing a Help to Buy property you're keen on; although please note that the scheme in its present form ends in 2021 but has been extended for first time buyers only and with other conditions up to 2023 (see box above).
Once you've lodged your reservation fee with your developer and received the proof/reservation form, you can then instruct your
Help to Buy Solicitor
on the same day and then complete your Help to Buy application on that same day as well.
After that you should normally expect to receive your Authority to Proceed within 4 working days of the agent's receipt of your forms or to be told that you've been turned down (although you should be accepted if you've carefully checked your eligibility).
3

What are the costs up to receipt of your Authority to Proceed (ATP)?
Developer's reservation fee: £500 and upwards
Solicitor's deposit fee: £200 and upwards
[SAM Conveyancing charges £160]
You do not have to pay a fee to your Help to Buy agent for your application.
4

Can you get a Help to Buy Mortgage without an Authority to Proceed?
5

What restrictions does the Authority to Proceed inform your broker/lender of?
Any mortgage you're granted has to be capped at 4.5x household income and the whole loan cannot be for more than 45% of the whole price of the property (and this is only for Help to Buy London; for the rest of the country, it's 25%).
6

How long does the Authority to Proceed last for?
Your Authority to Proceed lasts for 3 months. In most normal situations this should cover the period when you get your Help to Buy Mortgage in place - i.e. you get your mortgage offer for your Help to Buy property - and when your solicitor gathers together the mortgage offer, valuation and Council of Mortgage Lenders form (which lists any incentives the developer has offered you such as, for example, white goods or paying your stamp duty - this should not be more than 5% of the value of the property.
Once your solicitor has sent back all these documents to your Help to Buy agent, the agent, if satisfied, then issues your solicitor with a
Help to Buy Authority to Exchange (ATE)
(click to find out more), which allows you to proceed to the next stage of the Help to Buy conveyancing process, Exchange of Contracts.
According to the official wording from Help to Buy agents:
"Within this period of time we would expect to have received the pre-exchange documents, issued out an Authority to Exchange and for Exchange of Contracts to have taken place."
7

Help to Buy Authority to Proceed Expired - what do you do?
Situations might occur, such as a delay in getting your mortgage in principle, which cause your Help to Buy Authority to Proceed expired beyond its 3 month limit.
In this situation you/your solicitor must simply email your Help to Buy agent and request an extension.
FAQs
1. The figures on the mortgage offer don't match the Authority to Proceed on file, what do I need to do?
The figures that are on the Authority to Proceed are the figures that your Help to Buy agent has given you approval on. If the figures do differ then your agent needs to issue out an amended Authority to Proceed. In order for them to do so, they have to run the new figures through their Affordability Calculator so there is no guarantee that the figures will be amended.
2. The valuation price has come back at lower than the selling price, can you still proceed?
No. Your Help to Buy agent won't allow a case to proceed if your property has been valued at less than the Full Purchase Price. The property would either have to be re-valued or the builder lower the price.
Thinking buying through Help to Buy?
You'll need to get an experienced Help to Buy property lawyer on board. Our solicitors have masses of experience in successfully guiding our clients through the scheme and our fees are great value for money.
* Fixed Fee – No Sale No Fee – On all Mortgage Lender Panels
Proud of our Reviews


322 Google Reviews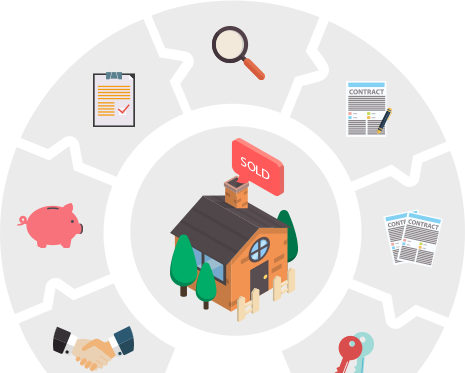 FREE Online Conveyancing Process for Buyers
Includes online checklists, videos, downloads and tips - plus it is completely free to use from start to finish and saves your progress along the way.
Log in