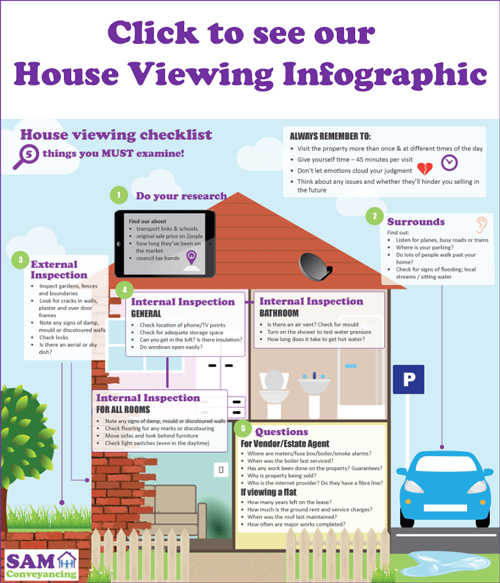 For all rooms:
Check to see if there is condensation and any signs of damp, for example, mould.
Check for exposed electric wiring.
Check for cracks; note if you can put the edge of a 10p piece in a crack as a rule of thumb. If you can then it might warrant further - and professional - investigation from a RICS surveyor.
Does the flooring need replacing?
Are there enough power sockets?
Is there a working radiator?
Be aware of 'cover ups'. A more unscrupulous seller might paint over damp or hide wall cracks or floor problems with furniture or rugs.
For the bathroom:
Test the shower, toilet and hot water. How long does the hot water take to come through?
Is there any mould?
Does it seem adequately ventilated?




General:

Where are the phone points and TV point?
Is there enough storage space?
Security:

Are there good door locks?
Are there good window locks?
Is there a working alarm system?

For testing:

Do all the taps work? How long does it take for hot water to come through? Are there noisy pumps (which might drive you up the wall...)? What's the water pressure like?
Do light switches work?
Do windows open and close easily?




Tomorrow, Part 5 of our House Viewing Checklist series examines what information you can get by asking the owner or estate agent questions.




If you have any questions about any aspect of house viewing, please call one of our experts on 0333 344 3234 or email us at help@samconveyancing.co.uk




*Fixed Fee – No Sale No Fee – On all Mortgage Lender Panels