Got a Fensa Certificate? Need to check? Need to get one?
FENSA is a government-authorised scheme that monitors building regulation compliance for replacement windows and doors. The button takes you to their website. It costs £25 to download a copy FENSA certificate.
2

What if your seller has lost a FENSA certificate (or you have)?
If a certificate has merely been lost, it's easy to get another one by contacting FENSA (telephone 020 7645 3700). The FENSA certificate cost is £20 to get a new one -
click to get a FENSA certificate online
.
3

How long does a FENSA certificate last for?
FENSA certificates are transferable, which means they last as long as you have your windows, and when you sell your home, they pass to the new owner.
4

Are there any alternatives to FENSA as members of a Competent Persons Scheme who do double glazing?
Yes. The next largest organisation to FENSA is currently
Certass
and this latter organisation acts in the same way as FENSA in relation to building control/building regulations matters dicussed above.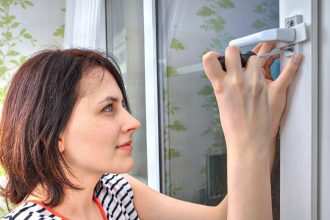 5

Can you self-install double glazing or use someone who isn't a member of a Competent Persons Scheme?
Yes you can and a seller may have chosen to have done so. As long as the correct building regulations compliance certificate has been issued (and this may cost £80 or so) then there are no problems regarding selling your property in future (as long as you keep the certificate safe(!)).
6

Can a lack of Planning Permission for double glazing also be a problem for buyers?
This article has addressed the issue of installing double glazing without obtaining the correct building control sign-off. Generally speaking,
planning permission
is not an issue with installing double glazing because the installation normally falls under permitted development rights.
That said, there may be an issue if the double glazing installation is in either:
a listed building; or
a home in a conservation area.
In these cases, you have to seek planning permission from your local authority and a seller should have done so.
Another issue to be aware of is that a leaseholder has to seek permission from the landlord/freeholder before installing double glazing and if the freeholder/landlord finds that they haven't done so, then this can also hold up a sale.
Our solicitors are expert in researching planning permission and building control matters for buyers as part of their report on title: if you're buying a home, contact us on 0333 344 3234 (local call charges apply).
Specialist solicitors when buying a property with no FENSA certificate
Our experienced property lawyers ensure that your seller has all the appropriate paperwork sent over, such as FENSA Certificate, Boiler Warranty and the property forms themselves: if any documents are missing, they ensure that the appropriate enquiries are raised so you know as much as possible about a property in their report on title before you exchange contracts and have to hand over your deposit.
* Fixed Fee – No Sale No Fee – On all Mortgage Lender Panels