Online Conveyancing Quotes
Get Online Conveyancing Quotes with Fixed Fees
Our experienced conveyancing solicitors have helped thousands of our clients buy homes successfully, whether first time buyers or seasoned home movers. Our fixed fees are truly fixed: there's no need to check any small print. Choose us and find out why we have so many top-rated Google reviews.
| | | | | |
| --- | --- | --- | --- | --- |
| | | | | |
| Fixed Fee Conveyancing | No Sale No Fee | CQS Accredited Solicitors | On all mortgage lender panels | Rated Excellent on Trustpilot |
Online conveyancing quotes have always come under scrutiny as their seemingly too cheap to be true prices almost never tally with the much larger sum of money demanded by the solicitor at the end. There is also a stigma around using an Online Conveyancing Solicitor; fearing that you'll never get to speak to them and the service is shocking. You do need to compare online conveyancing quotes with those you get referred from by the local estate agent, however you need to know what to look for.
The conveyancing process is difficult enough without needing to worry about an online conveyancer not doing their job or charging you extra fees on top of their online quote they email you at the ourset. The good news for you is that we have written this article to help you choose the best conveyancing quotes using 3 simple steps.
1

Beware of estimates not quotes
Incredibly low online conveyancing quotes need to be read in conjunction with the solicitors' terms and conditions. You'll find the terms and conditions don't always get supplied with the initial online quote so be wary if you feel your quote is too good to be true: you may end up paying considerably more due to the eventual addition of costs due to one or more items detailed in the list which follows.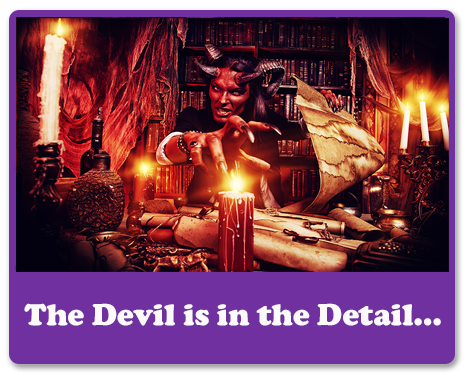 If you find any of the following statements on your quote you may find that your online quote isn't as good as you think it is:
"This quote is an estimate"
"Your quote is based on the information provided and may increase"
An estimate can get hundreds of pounds added onto it by the solicitor or conveyancer because it doesn't confirm exactly what you are going to pay. This is why you must look for a solicitor that provides a 
Fixed Fee Conveyancing Quote
. In the majority of conveyancing transactions a solicitor can ask a few questions at the outset so that they can confirm their quote for all of the work so they don't have to just give you a n estimate. Here are some of the questions your solicitor will ask to provide you with a fixed fee quote:
Is the property a freehold leasehold (share of freehold which is a leasehold)?
Are you buying using an affordable housing scheme such as Help to Buy, Right to Buy, Shared Ownership, Discount Market Sale
Are you buying with a mortgage?
(if leasehold) Do you want to vary any terms in your lease?
Online Quotes | Fixed Fee | No Sale No Fee | Rated Excellent on Trustpilot
2

Additional Conveyancing Fees Some Online Quotes Hide
Conveyancing Fee

Cost Range

(excluding VAT)

Administration Fee

A very common fee, this is typically justified as a flat fee to cover postage, photocopying, phone calls etc.

£40 to £100

Stamp Duty Land Tax Filing Fee

This is one to spot on most online conveyancing quotes for purchases. After you complete your purchase your solicitor will need to file a stamp duty land tax form for you with HMRC. It is completed for all purchases so should be included within your quote as standard.

£40 to £100

ID or Anti-Money Laundering Check Fee

Most online conveyancing quotes show this as an additional charge so if you don't see it ask if it is is going to be charged. The online ID fee is a charge to verify your name against your address as part of the 'Know Your Client' procedure conducted by the solicitors. SAM Conveyancing charge £8 per name for an online ID check and this is shown within our online conveyancing quote.

£5 to £30

Organising Indemnity Insurance Fee

During the conveyancing process your solicitor may need to obtain an indemnity policy to protect you and the mortgage lender.

£40 to £100

Archiving / File Storage Fee

Following completion your solicitor will need to hold onto your file documents for a number of years. Some online conveyancing quotes charge extra.

£15 to £50

Less than 1 working week between exchange and completion fee

Where completion occurs within 5 working days of exchange, a significant amount of extra work is required by way of additional telephone calls and general chasing as the critical phase of the transaction is compressed into a shorter period of time.

£75 to £150

Corresponding with managing agent fee

In the case of leasehold transactions there will probably be additional correspondence with landlords or managing agents required. Corresponding with all third parties is part of the standard conveyancing service and included in the SAM Conveyancing fees.

£75 to £150

Notice/Deed of Assignment fee

Leases usually include a covenant by the purchaser to serve a notice on the freeholder of the change of ownership. This is known as a Notice of Assignment and often attracts an additional Conveyancing Fee. The solicitor must ensure that a notice of assignment is served on the landlord or the seller will continue to be invoiced for rent and service charge. SAM Conveyancing do not add a charge for this work - we will pass on any disbursement costs.

£50 to £150

Deed of Cross Covenant for Flying Freehold fee

A Flying Freehold situation can be complicated and we would urge you to contact us for further information before instructing a conveyancer who is likely to charge conveyancing fees at a more bespoke level for this type of work.

£200 to £350

Deed of Postponement or Occupier Waiver fee

This work is normally undertaken by an independent solicitor who needs to provide legal advice to an occupier of a property who is not a party to the mortgage.

£150 to £300

Leasehold Supplement Conveyancing Fee

Leasehold sales require the review of additional documentation including the lease, the management pack, freehold title as well as dealing with managing agent and freeholder. At SAM Conveyancing the 'Leasehold Supplement' is included in our standard Conveyancing Fee and will merely pass on any disbursement costs (always without mark up) incurred on your behalf.

£75 to £300

Simultaneous exchange and completion fee

Where exchange and completion happens simultaneously an extra conveyancing fee is sometimes charged. On the day of the simultaneous exchange and completion the highest priority must be given to exchanging on this matter (before all others) to ensure the matter is also completed within the same day.

£75 to £300

Responding to additional enquiries fee

This is one of the scariest additional fees to spot on an online conveyancing quote. This fee will be charged per enquiry raised or responded to and when there can be as many as 20 enquiries, this additional fee can cost hundreds of pounds.

£25 to £50

Payment of Service Charge Arrears fee

When selling a leasehold property you will be required to settle any service charge and/or ground rent arrears before completing your sale. Your lawyer will be asked to give an Undertaking (a legally binding promise) to pay the outstanding amount at the point of completion. If the apportionment of ground rent or service charge is to be shared between buyer and seller, this will be calculated and agreed between the two solicitors.

£50 to £85

Preparing statutory declarations fee

Sometimes the deeds do not contain a right of way over any road or point of access serving the property meaning that legally the owner does not have right of access to their property. The buyers lawyer will conduct a search to attempt to establish who is the legal owner of the road. Sometimes it appears not to be owned by anyone which may or may not be the case but in any event will mean that the owner will be nigh on impossible to contact. In these circumstances it is necessary to obtain a statutory declaration. This is a declaration sworn before a solicitor following the protocol of the Statutory Declarations Act 1835. In this process the seller states that he/she has had full use of the road without any contest or objection or without providing payment of any sort.

£50 to £85

Purchase Repossession/Purchase Supplement fee

Buying a repossessed property is likely to put the buyer under a very strict deadline and this can make the transaction more compressed i.e. the same or higher amount of work will need to be conducted in a lesser amount of time.

£150 to £300

Retention fee

Sometimes after completion a retention is held back pending a post completion event, e.g. finalising of freeholder company accounts. In this example it would mean work continuing in chasing and reviewing managing agents end of year accounts until finalised and releasing the retention as appropriate.

£50 to £100

Sending you copy Title Deeds following completion fee

An additional charge for copying and sending your deeds to you after completion.

£25 to £50

CHAPS/Bank Transfer fee

Every conveyancing transaction requires at least one bank transfer fee so we include 1 free within our standard online conveyancing quote.

£25 to £50

CHAPS/Bank Transfer fee

Every conveyancing transaction requires at least one bank transfer fee so we include 1 free within our standard online conveyancing quote.

£25 to £50
2

Compare online quotes with online reviews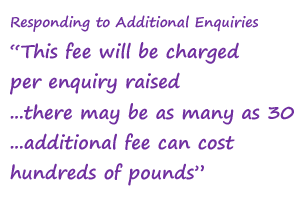 There is normally no smoke without fire so if you see the conveyancing solicitor has a high number of 1 star reviews complaining about additional costs being added on then you should get a confirmation in writing that the property lawyer won't add on any extras. If you are getting a quote from an online introducer then make sure to get the clarification from the actual solicitor handling the conveyance for you.
Online Conveyancing Quotes With Nothing To Hide
At SAM Conveyancing we provide an online conveyancing quote that is fixed and includes all of the legal work for a standard conveyancing transaction for your specific property.
Call 0333 344 3234 to get a FREE fixed fee conveyancing quote for your home move
Fixed Fee (with no hidden extras) – No Sale No Fee – On all Mortgage Lender Panels
Proud of our Reviews


322 Google Reviews FREE Online Conveyancing Process for Buyers
Includes online checklists, videos, downloads and tips - plus it is completely free to use from start to finish and saves your progress along the way.
Log in