What does the report contain?
Coal and Brine Mining Information
The first part of the report gives detailed information about the location regarding coal and brine mining. After assessing the overall risk of these mining activities (e.g. 'Moderate'), it looks at various mining features such as the presence of mine shafts and mine gas and lists the risk factor accompanying past, present and planned future underground and opencast mining works.
For each of these features, you are given a 'Risk' judgment (yes or no) and an overall assessment (negligible/low/moderate/high risk).
The report's individual author's name is also listed in this section along with their telephone number for contact
.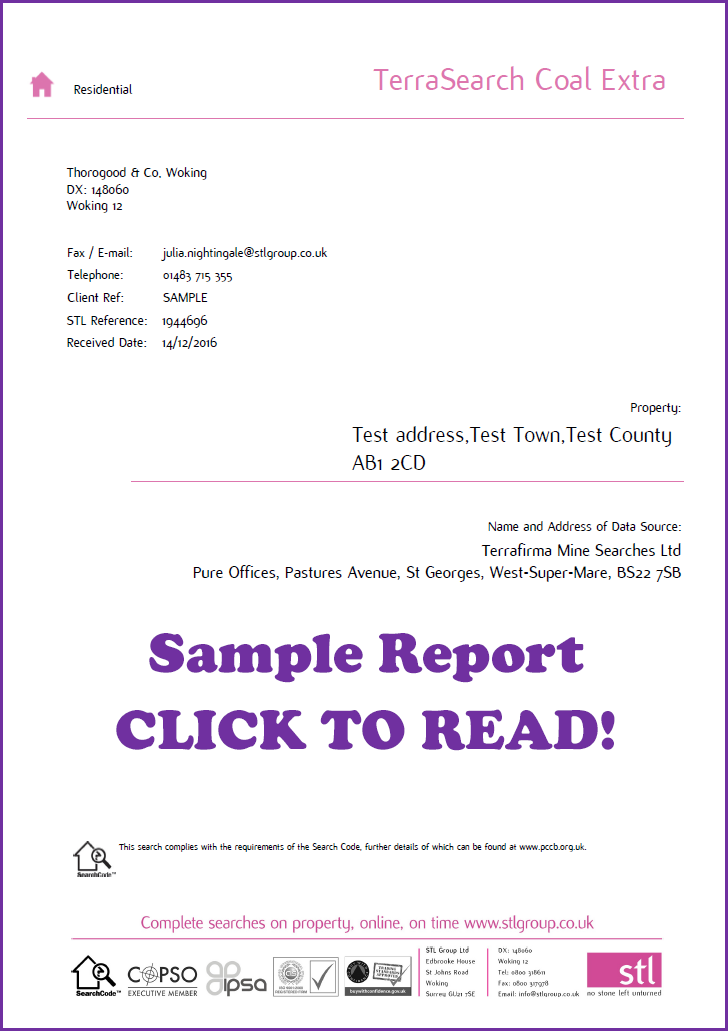 Mining hazards
This section lists 64 substances which are mined, including Coal and Brine, and for each one, indicates whether mining of this substance occurs within 500m of the property in question.
If additional mining hazards are identified within 500m of the property, you are recommended to get a TerraSearch Assess report for further information.
Hazard Map of the Local Area
The next part of the report gives you a map centring on your property which indicates the hazards nearby. It has a key which differentiates zones with different levels of risk (high, moderate, low and no risk).
Detailed Findings of Coal Mining Hazards
This section 'drills down' into the information about coal mining hazards, examining, for example, prevailing geological conditions (presence of faults, fissures and breaklines). Each part has its own risk assessment to simplify it (from high risk to no risk).
Insurance information and report limitations
The final part of the report explains how its insurance cover works and the limitations therein.
How much does the TerraSearch Coal Extra Report cost?
£60 including VAT.
How quickly do you receive the report?
You normally receive the report within 2 days but if you need it urgently, it can be returned within a day for an additional fee.
If you would like to book this report, please call our offices on 0207 112 5388.
*Fixed Fee – No Sale No Fee – On all Mortgage Lender Panels