| | | | | |
| --- | --- | --- | --- | --- |
| | | | | |
| Surveys from £300 | Same week availability | Local Knowledge | Qualified RICS Surveyors | Rated Excellent on Trustpilot |
A property survey such as a HomeBuyer Report or Building Survey is invaluable to a buyer to identify key defects in their property before they pay for it.
Whether you are buying a
Georgian
,
Victorian
, 1950s
bungalow
or a new build flat, you'll need to get a surveyor to thoroughly inspect the property to identify potential defects and future issues.
The common house survey problems you can find are varied and this is why it is important to always get an experienced RICS surveyor to inspect your property because spotting these issues isn't always easy; especially if you can't see the problem at first glance.
Some of the key property defects you can find are:
Damp or mould
Subsidence or signs of movement
Infestations such as rats, mice or woodworm
Dry or wet rot
Dangerous materials such as asbestos
Blocked drains
Damage to roof
The two main surveys you can get to identify these property survey defects are the
HomeBuyer Report
(for bungalows, flats and post 1960 house) or a
Building Survey
(for larger, older or heavily extended properties).
Read on for further information about the main property defects found by RICS surveyors.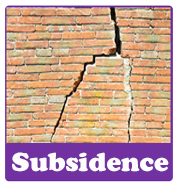 Subsidence or signs of movement
Subsidence is the lowering and shrinking of the ground beneath a house, leading to the property's foundations moving.
This movement causes movement in the rest of the property and this can particularly show up via cracks appearing in walls and ceilings.
If your property has subsidence, it can end up destroying the property or costing tens of thousands of pounds to repair.
During the course of a property survey, your surveyor will be able to make a judgement as to whether you have subsidence or not.
If you have, the surveyor can assess what the cause is - this could be tree roots close to your property, for example, or clay sub-soils - and what remedies are required to halt and cure the problem.
Your property survey may advise that you hire a structural engineer who might, for example, decide that underpinning or jet grouting is required.
The cost to repair can range from £10,000 up to £100,000 or more. Find out the exact cost here -
What is subsidence?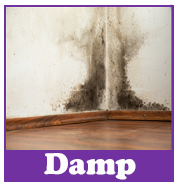 Rising Damp
This is where water is drawn from the ground through bricks, mortar or sandstone. Porous materials such as these naturally absorb water like a sponge.
Builders use damp proofing to combat rising damp. Damp proofing is a layer of material between the porous building materials and the ground which stops the water being absorbed into the materials.
Rising damp shows up through damaged internal decoration, damaged plaster, rotting skirting boards or floor boards and dampness on walls.
It may occur because the current damp proof has stopped working or has been compromised, leaking water pipes or even because no damp proof was ever laid.
Your property survey will tell you whether you have rising damp, what the extent of it is and how it can be rectified.
Your surveyor will use a damp meter as part of their investigations. If the damp is considerable, they may recommend that you get a rising damp surveyor to inspect the internal and external walls and floorboards.
Rising damp can lead to more severe problems particularly where timber is concerned, such as wet and dry rot, woodworm and other fungi-related issues.
If any of these are identified, your property survey may recommend that you book a timber survey which will assess the problem further and advise on remedies and estimate costs.
There are various remedies for rising damp, including soil excavation, asphalt tanking, laying concrete slabs and injecting a silicone damp proofing course.
Most experts state that you should carry out a full damp survey before paying out large sums for a remedy as you might end up wasting money or spending more than you need.
The cost to repair can range from £1,000 up to £15,000. Find out the exact cost here -
What is rising damp?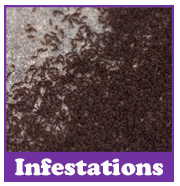 Pest Infestation
Pest infestations in a house can be incredibly distressing and come with the possibility of damage to the property and the risk of disease.
Rats and mice are perhaps the most classic culprits of property infestation. They classically invade buildings via adjoining buildings and the sewer system.
Rats carry Weil's Disease which they can transfer to humans via their urine. This disease can be fatal to humans.
All rodents can destroy the fabric of a property as their incisor teeth, which continue to grow throughout their lives, can gnaw through anything from electrical cable to gas pipes.
Other infestations in a property can include, but are not limited to, bed bugs, cockroaches, fleas, ants and numerous other insects.
A property survey will mention any evidence of an infestation found. A common example is your surveyor finding rat droppings in the property when making their inspection.
Depending on the type of infestation, your property survey may give a recommendation to hire a pest control expert to advise on remedying the problem.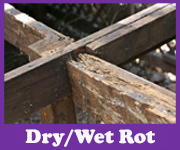 Other defects
A property survey can also highlight any number of other defects and may recommend that these need correcting before they cause more serious - and expensive - problems.
When a property has been extended, the extension may have a flat roof. Flat roof coverings have a shorter lifespan than the tiles and slates which accompany pitched roofs.
Your surveyor may note in your property survey that a flat roof has come to the end of its useful life and recommend how to remedy any potential future problems which it might cause.
Chimney stacks are liable, as time passes, to movement and deterioration of pointing. Repairs can be expensive because chimneys are difficult to access and your property survey can indicate whether you might have a future problem here.
When you book a property survey through SAM Conveyancing, you can rest assured that the surveyor you've hired is an expert, with years of experience.
They will work hard to detect if the property you've set your heart on has any problems which might cost you piles of money if you don't act on them.
They can also point you in the direction of other appropriate professionals should a defect require further assessment.
Frequently Asked Questions
If your house survey reports problems, you should speak to your surveyor to get a run through of the properties condition.
Depending on the severity of the defects you may want to pull out of the purchase all together.
If the defects are work-able, you can negotiate with the seller to reduce their price, to account for your additional costs of setting the defects right after purchase.
It may be necessary to carry out further surveys to fully assess the cost of rectifying the property survey defects.
Book your Property Survey
All of our property surveyors for HomeBuyer Reports and Building Surveys are regulated by RICS with years of experience working on all ages and types of properties throughout England.
With over a 100 surveyors we'll have a local surveyor near to your property able to give you the reassurance you need to buy your home.
If you would like to book a HomeBuyer Survey you can call our head office on 0333 344 3234 and we'll arrange the access and get the survey booked for the earliest possible time.
Competitive Prices | RICS Surveyors | Local Knowledge | Same Week Availability
Want help now? Call us on 0333 344 3234 (local call charges apply)
Proud of our Reviews


322 Google Reviews FREE Online Conveyancing Process for Buyers
Includes online checklists, videos, downloads and tips - plus it is completely free to use from start to finish and saves your progress along the way.
Log in