Guide to Buying a Leasehold
As a first time buyer you are often left with little choice except to buy a leasehold flat because of the prohibitive costs of buying a
freehold house
.
One of the most frequent questions we get asked is "Why is buying a leasehold property different to buying a freehold?". The best way to answer this is to understand the principles of buying a leasehold. Very simply put, when you buy a freehold, you buy the land and the house on the property. When buying a leasehold you don't buy the land, you buy the lease to have access to the land to get to your part of the property. This means that you don't own the land or the whole property, you simply have the right to live in a part of the property set out in your lease for a set period of time.
It's just like renting a flat
Buying a leasehold flat is like renting a leasehold flat. Both leases include:
Length of the lease (rentals are short but leasehold can be very long - up to 999 years)
Restrictions on what you can do in the property
Obligations of the freeholder (also known as the Landlord) to you
Rent you have to pay (leaseholders have to pay ground rent)
In this guide to buying a leasehold we'll run through the key things you are going to need to know about buying a leasehold flat so that you'll know what to expect and don't have any hidden surprises.
We specialise in leasehold purchases and can help you with any questions you have along the way. Call us on
033 344 3234
(local call charges apply) to get a fixed fee quote or you can
run an online quote here
.
Fixed Fee – No Sale No Fee – On all Mortgage Lender Panels - Leasehold Specialist Solicitors
What is a leasehold property?
Before we can understand about a leasehold property, we need to understand what is meant by a
freehold
property. The definition of a freehold property is
'the outright ownership of the property and land on which it stands'
.
Effectively the lease is a long term rental agreement created by the freeholder. The end term and cost of the lease is fixed at the time it is created. The lessee (purchaser of the lease) buys the lease and has the right to on-sell this lease during its agreement term.
Houses are usually freehold properties, while flats will usually be leasehold properties. In the case of a block of flats, each flat would have its own lease. There would usually be a clause within the lease to clarify ownership, responsibilities and cost of maintenance of communal areas such as corridors, stairs, lifts and gardens.
In some instances a lessee might own both his lease and a share of the freehold. This is quite common in converted properties where the original freeholder might have sold a proportion of the freehold along with each leased flat at the point of sale and therefore no longer has a stake in the property.
The length of a lease can vary significantly and new leasehold properties have long leases, for example 999 years, however leases created in the 1960s to 2000 started off with a shorter lease term of between 99 and 125 years.
What is the problem with a short lease?
Once a lease term has less than 80 years to run it is classed as a 'short lease'. The problem arises when you look to sell the property as a mortgage company will frequently insist on a lease term with 70 years still to run at the end of any mortgage term. Given that mortgage terms are frequently 20-25 years and most buyers require a mortgage to purchase a property, many current leases fall into the danger zone.
This should not put off a purchaser unduly however as leases can usually be extended as long as certain criteria are met and can even be negotiated by your solicitor as an additional service as part of the conveyancing process. However there will be additional costs involved.
Leaseholders will have to pay a premium to the Freeholder to extend the lease term. When buying a leasehold flat a purchaser should always request information about the current lease term. It is advisable to have this information even before instructing your solicitor. As although they will check the term as part of their conveyancing, upfront information can avoid a great deal of unnecessary time wasting all round.
Different types of leasehold property:
Most flats or apartments are leasehold properties; although as mentioned earlier, on occasion a freehold might be converted into several leaseholds, i.e. a traditional Victorian house conversion where several flats are created out of a single dwelling. The original freeholder might chose to hold on to the freehold and just create individual leases or he might chose to sell of a 'share of the freehold' on top of the lease contract.
A leasehold property will have some parts of the building that don't belong to any leaseholder and are classed as communal areas. These are mostly hallways, stairwells, lifts, gardens. The communal areas are shared by the leaseholders living in the property and each leaseholder contributes towards the maintenance of these areas (see service charges below).
What is Ground Rent?
Within most leasehold contracts, there is a clause stating the annual ground rent payable by each lessee to the Freeholder. This may be very nominal for older properties but will need to be paid promptly as it falls due.
In some leases rather than being a flat based fee, the ground rent might be 'staircased' which means the amount of charge increases over time. For example there might be a charge of £50/year for the first 20 years which might then increase to £75 for the following 20 years, and then again by another incremental amount for the following 20 years and so forth.
What is Service Charge?
These can be significant and require close inspection.
Leasehold service charges
fall due each year and are paid to either a managing agent, council or the Freeholder (depending if the Freeholder self manages the freehold). They cover the costs of maintaining the communal areas such as lifts, cleaning, electricity for lights, garden maintenance. Service charges are normally paid in advance so may be based on projected costs. (Read
retentions
to see where this causes issues with the conveyancing process).
The service charges not only include the cost of works carried out, but also include administration costs, accountants fees, and (for larger blocks) even salaries for any full time maintenance staff. Moreover the managing agent decides on the tradesmen used for work not the lessees footing the bill.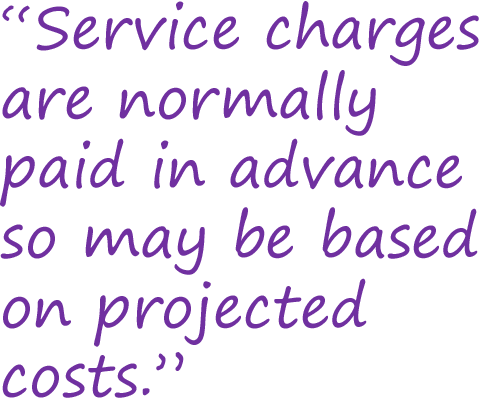 What are Major Works?
Before you buy a leasehold property, you must find out if there are any planned
major works
and what the schedule of those works might be. Also you'll want to know whether these works already have the required financing in place or whether you'll be liable for the costs of the works in the future.
Major works aren't included within annual service charges but are an addition to the annual sum. Your conveyancer will check whether the managing agent has already set up a reserve fund paid into by the lessees in anticipation of the future big outlay. This would have been billed as a separate item within their annual service bill.
Sinking or reserve funds are a useful, although often unpopular, addition to the annual service charge bill as it ensures that any unforeseen or big expenses are offset, softening the pain.
The downside from a seller's perspective is that they may have contributed to the sinking fund and unless their conveyancing solicitor is able to negotiate with the purchasers or managing agent for an element of refund this might be money lost to them and only benefiting the future owner.
Management Information / Leasehold Information Pack
If you are selling a leasehold property, it is your responsibility to supply the buyer with the following information all of which should be detailed in the Leasehold Information Pack:
Service charges
Ground rent
Accounts for the Management Company for the last 3 years
Planned Major Works
Overdue service charge or ground rent
Other information about the leasehold
Once commencing the sales process it is important to request the management information at the earliest opportunity as this can take weeks to come through and lead to a delayed exchange. Private Freeholders and councils are notorious for being slow to respond.
The purchaser's conveyancing solicitor may have additional enquiries relating to the leasehold property which will need to be responded to as well.
The cost of buying a Leasehold Information Pack can vary enormously. Councils charge around £100, while management companies have been known to charge as much as £300. Unfortunately the seller has little choice other than to pay the charge as, without it the purchaser's solicitor cannot do his job.
What is a Retention?
In residential conveyancing, a retention is usually a part of the purchase money which is held back on completion and retained by one of the party's solicitors until some further action is completed.
For instance, the seller may be required to complete some work to the property, or if the seller has an outstanding insurance claim for damage to the property, money may be retained until the insurers have arranged completion of any repairs or otherwise settled the claim. Another possibility is that the seller may have to get a document signed by someone else, such as a release by a third party or a landlord's consent to alterations, which was not available on completion.
How does a retention affect the seller of a leasehold?
Major works may have been planned for prior to sale but costs may not have been finalised. The purchaser's conveyancer might argue that the foreknowledge of the seller means he should be liable for a proportion of the costs.
In addition to this if pre-paid service charges for major works were based on estimates, but actual costs are significantly higher, the purchaser's solicitor might argue that the low estimates distorted the true costs of the works and that the seller therefore paid less service charges than they were entitled to pay in previous years and should therefore be entitled to contribute to the final bill so the buyer is not left financially disadvantaged.
How does a retention affect the buyer of a leasehold?
It is the duty of the buyer's solicitor to request a retention to cover any pre-agreed future liability of the seller after their ownership of the property has been transferred to the buyer. This retention should then be held on the Conveyancing Solicitors account and when a liability demand is provided, the conveyancing solicitor for the buyer will agree with the conveyancing solicitor for the seller the proportion that relates to the previous owner; and make payment accordingly.
If in doubt, always request for a retention
Retentions are a complex area and a lot of conveyancing solicitors prefer to settle based on a pre-agreed projected allowance. This allowance is a deduction from the purchase price of the leasehold property that takes into account any future liability the seller may owe. Allowances do not change the purchase price, so you will pay stamp duty based on the purchase price; however you will pay less money to the seller because of the allowance.
Allowances can work in your favour, but there is still a risk. You are always gambling that the estimate of the allowance will be enough to cover the future liability. Once the final cost of the liability has been dealt with if there are additional funds, these are paid to the seller.
If you are ever unsure, speak to your conveyancing solicitor or give us a call on 0333 344 3234.
Leasehold Buyer's Checklist
Check how many years are left on the lease. If 85 years or less, make sure a lease extension is agreed before you buy the leasehold property.
How much is the Ground Rent? When is it Paid?
How much is the Service Charge? When is it paid?
Are there any planned major works?
Make sure your conveyancing solicitor apportions the ground rent and service charges so that they are paid up to date. If service charges or ground rent remain unpaid, the Freeholder/Managing Agent won't send back your notice which will delay the registration of your leasehold property.
Make sure you ask your Conveyancing Solicitor to request the Leasehold Information Pack from the sellers as soon as possible – this can take weeks to come in.
Agree a retention for any future liability for major works, service charge or ground rent.
Is a parking space included? It is important to know what you own as part of a leasehold property. It is easy with a freehold as everything built on the land is yours, however with a leasehold flat that isn't the case. All too often you find out that the parking space you thought was yours, actually isn't and belongs to all the leaseholders and is not allocated just to you.
Is your Freeholder absent? An absent Freeholder can be a serious problem and can devalue the leasehold if they cannot be found. The reason for this is that you'll be faced with maintaining the communal areas of the property yourself, organising your own buildings insurance and taking more formal routes to extend your lease. This is an additional complication that may put off some buyers so keep an eye out for this. Click to find out more about what you should do if you have an absentee freeholder
Check in the lease to see if the parking space is included and if you have sole use of it.
Leasehold conveyancing costs
Always ensure you have checked that the work relating to the leasehold transfer is included in your conveyancing solicitor's price. Always ensure you have a fixed price for your conveyancing work At Sam Conveyancing we provide a
fixed rate conveyancing fee
on a '
no move no fee
' basis.
Fixed Fee – No Sale No Fee – On all Mortgage Lender Panels
Frequently Asked Questions
Some freeholders will willingly sell to their leaseholder 'informally'. If they don't want to, you may have the right to take the formal route - you must be what's called a 'qualifying tenant' which includes having held your leasehold for at least two years.
You can find out by checking with the
Land Registry
. They hold information including the legal owner, the full address, whether the property is freehold or leasehold, and if so, when the lease runs out.
Proud of our Reviews


322 Google Reviews FREE Online Conveyancing Process for Buyers
Includes online checklists, videos, downloads and tips - plus it is completely free to use from start to finish and saves your progress along the way.
Log in