Solicitor for buying a house
(Last Updated: 25/02/2020)
| | | | | |
| --- | --- | --- | --- | --- |
| | | | | |
| Fixed Fee Conveyancing | No Sale No Fee | CQS Accredited Solicitors | On all mortgage lender panels | Rated Excellent on Turstpilot |
It's understandable to wonder why you instruct a solicitor for buying house. If you're a cash-strapped first time buyer, the overall cost of getting that all-important first foot on the property ladder is daunting and it may seem like it's just one expense after another.
However instructing a property lawyer is absolutely essential to ensure that you've a professional 'friend in your corner' to handle the complex legals which accompany conveyancing. This is given the sheer sums of money involved, and the coordination of various complicated processes, such as getting your mortgage paid to the seller, in a timely and efficient manner, such that you end up with your front door keys, sitting down with a nice cup of tea!
This article examines:
---
1

Why do you need a solicitor for buying a house?
You actually don't need a property lawyer to buy a house...but before considering 'doing it yourself', you should consider why doing so is more or less unheard of.
A solicitor has years of legal training, making their understanding of matters like complex contracts, planning laws and potential pitfalls in conveyancing vastly superior to an amateur's - if you 'lose your way' you risk financial distaster.
Solicitors carry professional indemnity insurance if it all goes wrong whereas you would not and would have to bear costs personally.
A solicitor can be expected to coordinate all the legal matters for your home purchase in a matter of perhaps 6 - 10 weeks. If you were doing this yourself as a complete beginner, it would take you many times longer.
The person whom you're buying a property from will invariably have their own solicitor representing them and this solicitor is highly unlikely to consider working with a non-solicitor on the buying side, not least for the reasons already stated above.
2

What exactly does a solicitor do during the conveyancing process?
Your conveyancing solicitor's initial function is to verify who you are and that you have the finances in place to buy the property you wish to purchase. They'll also check that your
funding
is derived from a legally acceptable source: this is called due diligence and must be carried out not least because if a solicitor is found to have helped launder criminal proceeds, they face criminal charges and being struck off.
Your solicitor makes contact with various other professionals who may be involved in your purchase in order to act on your behalf. This can include: estate agents,
mortgage brokers
,
surveyors
, housing associations, local councils and even structural engineers.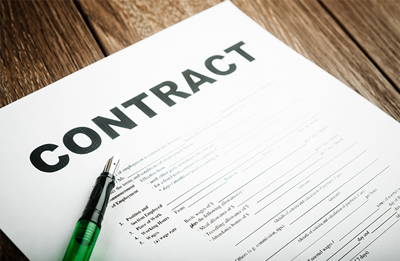 Your solicitor then carefully examines all the legal documentation associated with the home you're looking to buy. They'll examine your mortgage offer, your home buyers survey,
property searches
, the contract for sale and all the
property information forms
sent from the seller.
Fixed Fee (no hidden extras) | Excellent Trustpilot Rating | No Sale No Fee | On all Mortgage Lender Panels
If the solicitor finds any issues in any of the material they examine, they'll raise enquiries on your behalf and only when these have been exhausted will they give you a final report on title, so you're briefed as clearly as possible on the fine detail of what you're buying, then you can proceed to exchange.
Now a good solicitor can uncover things that you didn't realise were an issue. Your seller may not have sorted out
planning permission
or had
building control
sign-off for that loft extension, which may lead to costly legal consequences. Your solicitor can protect your financial and other interests and negotiate diligently on your behalf.
Finally, a good solicitor won't let matters progress until they're sure that everything is in place to do so. Given, for example, that you stand to lose your entire 10% deposit if you
pull out after exchange
, a good solicitor would never allow you to exchange if there was any risks that you'd have to.
At the end of the process, your solicitor ensures that you pay HMRC any
stamp duty
you owe and that the
Land Registry
has the details of your new ownership, once again ensuring that the whole process is conducted in a legally sound manner.
3

What should you look for when selecting your own conveyancing solicitor?
Now that you understand both why you should use a conveyancing solicitor for buying a house and what they do during the process, it's worth emphasising how important it is to pick a good one to conduct your home move.
A good conveyancing solicitor can make the difference between your move being completed or not, whether your process is conducted at a fast or slow pace and whether there are any unexpected issues further down the line.
And if your home purchase involves anything 'special', such as
Help to Buy
,
Shared Ownership
or
Right to Buy
, you'll naturally want to select a property solicitor firm which has experience in the area, as our solicitors do.
It's understandable that you might wish to instruct cheap conveyancing solicitors, but value is just as important for these reasons and you should seek to balance these two aims.
Beyond the normal checking of reviews etc. that you would conduct when looking to hire any professional person for a job, here are a few essentials which you should look for:
Fixed Fee Conveyancing Solicitors
The advantages of a fixed fee quote are clear: you know what you'll be expected to pay from the outset and can budget for it and you don't have to worry about any unexpected delays or complications making your legal costs rise.
But you should be careful to check the terms and conditions of any firm which advertises its fees as fixed; very often there are unexpected charges for matters like disbursements which are carefully buried within the contract. You can rely on our fees being truly fixed.
As many as one in three conveyancing matters fail to complete. Given how common this is, we'd always recommend that you're protected such that if your initial purchase fails, you can look for another property and 'carry on where you left off' without having to pay any further fees. Our No Sale No Fee guarantee protects you in this way.
On all mortgage lender panels
If you're buying a property with a mortgage, you'll find that lenders will only work with certain solicitors whom they have approved for the purpose; this has the potential to derail your home move.
Our solicitors are on all mortgage lender panels meaning you can rest easy that your lender will be satisfied with your legal representation.
Conveyancing Quality Scheme (CQS)
The Conveyancing Quality Scheme (CQS) award is given by the Law Society only to conveyancing solicitor firms who demonstrate consistently high standards in conducting conveyancing for clients and the marque is continually assessed. It's always a good sign when you're choosing between different solicitor firms to conduct your move.
Great communication using all modern methods
You'll undoubtedly wish to be kept 'in the know' by your solicitor as to the progress of your home purchase. Therefore good communication is essential for any worthwhile property lawyer firm.
It's also essential that the firm uses email as the basis for most communications as well as phone calls: it may come as a surprise to learn that there are still conveyancing firms which rely on Royal Mail for this!
At SAM Conveyancing, we always appoint a case manager whom you can call during office hours with any concerns about any aspect of your move or when you're seeking an update - this difference has made us very popular with clients is among our strongest suits. We don't charge any extra fee for this service.
Need a quote for a solicitor for buying a house?
Our experienced conveyancing solicitors have helped thousands of our clients buy homes successfully, whether first time buyers or seasoned home movers. 
Our fixed fees are truly fixed: there's no need to check any small print. 
Choose us and find out why we have so many top-rated Google reviews
.
Fixed Fee | No Sale No Fee | On all Mortgage Lender Panels

Written by: Andrew Boast
Andrew started his career in 2000 working within conveyancing solicitor firms and grew hands on knowledge of a wide variety of conveyancing challenges and solutions. After helping in excess of 50,000 clients in his career, he uses all this experience within his article writing for SAM, mainstream
media
and his self published book
How to Buy a House Without Killing Anyone
.

Reviewed by: Caragh Bailey
Caragh is an excellent writer in her own right as well as an accomplished copy editor for both fiction and non-fiction books, news articles and editorials. She has written extensively for SAM for a variety of conveyancing, survey and mortgage related articles.