1

Instruct Your Solicitors
Instructing your conveyancing solicitors should be the very first thing you organise when you're buying a home ahd the first item on your moving house checklist.
You should do this before or on the day you make or receive an offer. Remember, faster transactions happen when you instruct your solicitors early.
SAM Conveyancing offers specialist conveyancing solicitors to help you - just call 0207 112 5388 for a quote.
Once you have your mortgage in principle, you need to order your property valuation. Only then will your mortgage lender give you a mortgage offer.
You should do this as soon as your offer is accepted or price agreed. You should only ever hold off if you are concerned that the sellers haven't had an offer accepted for their onward purchase.
You should speak to your mortage lender or mortgage broker about this or call us on 0333 344 3234.
3

Book Your Building Survey
You need to order your Building Survey to check your property for any structural defects - this is quite distinct from your mortgage lender's valuation. Many will try and economise over this but risk having to fork out £1000s to correct defects once they purchase the property. You should not leave this off your moving house checklist.
You need to do this in the first week after instructing your solicitor as if there are any defects, the sooner you know about them, the better.
We employ experienced RICS surveyors in the area the home you want to buy is in; just call us on 0207 112 5388 for a quote.
*First Tiem Buyer Specialists - Fixed Fee – No Sale No Fee – On all Mortgage Lender Panels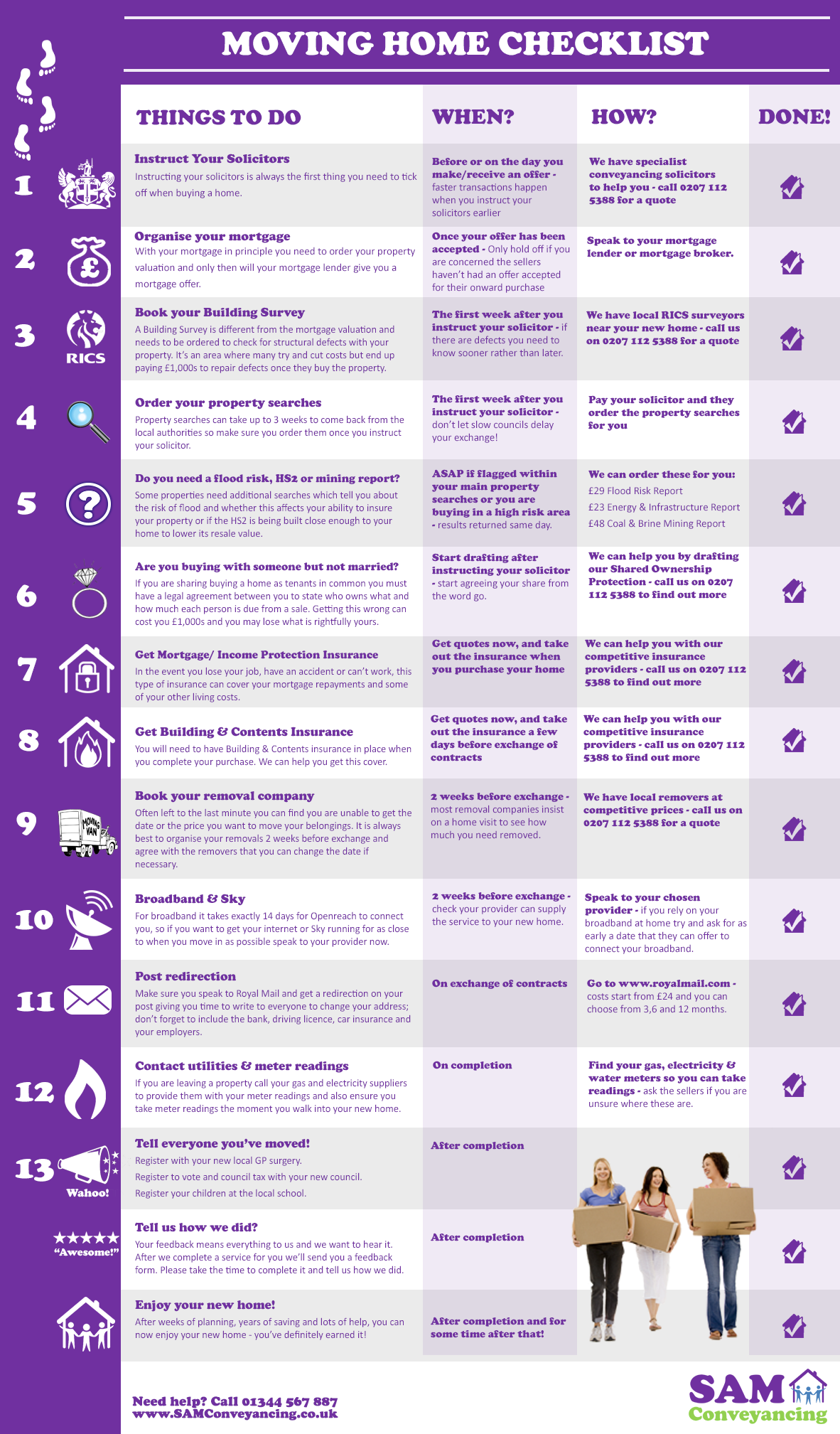 4

Order Your Property Searches
You should ensure that you order your property searches once you instruct your solicitor because local authorities can take up to 3 weeks to return inquiries.
It is best to order these in the first week after you instruct your solicitor if you want to minimise the chance of slow councils delaying your exchange.
You simply pay your solicitor and they will order the property searches for you.
5

Do you need a flood risk, HS2 or mining report?
Depending on where your property is located, it may be advisable to book additional searches which consider, for example, flood risk and whether this affects the insurability of your property or if the HS2 is being built so close to your home that it will lower its resale value.
You should order any additional searches as soon as you can if they are flagged up as necessary within your main property searches or if you are buying in a high risk area. You normally get your results returned within the same day.
SAM Conveyancing can order these for you: £29 Flood Risk Report, £23 Energy and Infrastructure Report, £48 Coal & Brine Report.
6

Are you buying with someone but not married?
If you are sharing buying a home as tenants in common rather than joint tenants and you must have a legal agreement between you setting down who owns what and how much each person should receive from a sale. Getting this wrong could end up costing you £1000s and you stand to lose what is rightfully yours.
You can start to draft your agreement after instructing your solicitor and start agreeing your shares from the outset.
SAM Conveyancing can assist here by drafting our Shared Ownership Protection - find out more by calling us on 0207 112 5388.
7

Get Mortgage/Income Protection Insurance
Should you have the misfortune to have an accident or lose your job or be unable to work, insurance of this kind can cover your mortgage repayments and some of your living costs.
You should get quotes now and, once you've bought your home, take out the insurance.
SAM Conveyancing can give you a choice of competitive insurance providers. To find out more, just call us on 0207 112 5388.
8

Get Buildings and Contents Insurance
You will need to have Building & Contents Insurance in place when you complete your purchase. We can help you get this cover.
You should look at quotes now and take out the insurance a few days before exchange of contracts.
SAM Conveyancing can give you a choice of competitive insurance providers. To find out more, just call us on 0207 112 5388.
9

Book your removal company
This is an essential task often left to the last minute, at which point you find yourself unable to get the date you want to remove your belongings or a good price.
We advise you to book your removals 2 weeks before you exchange and get an agreement with the removers that, if necessary, you can change the date in case of the unforeseen. Bear in mind that most removal companies insist on visiting you at home to assess how much you need removed.
SAM Conveyancing offers local removers at competitive prices; for a quote, just call us on 0207 112 5388.
Openreach will take 14 days to connect your broadband so if you want to have your internet or Sky in place for as close to when you move in as possible, you should speak to your provider now.
You should check that your provider can supply services to your new home 2 weeks before you are set to exchange.
You should ask for as early a date as possible that your provider can give you service if you rely on your broadband at home.
Make sure you speak to Royal Mail to get them to redirect your post and give yourself time to inform everyone to change your address. Remember to include the bank, the DVLC, your car insurance providers and your employers.
You should organise this on exchange of contracts.
Visit www.royalmail.com. Costs begin at £24 and you can opt for 3,6 or 12 months.
12

Contact utilities and meter readings
When you leave your property, you should call your gas and electricity suppliers to give them your latest meter readings and you should equally take meter readings the moment you walk into your new home.
You should do these tasks on completion.
You should locate where your gas, electricity and water meters so you can take readings; if you are unsure where they are in your new property, just ask the sellers.
13

Tell everyone you've moved!
You should register with your new local GP surgery, register to vote and contact your new council about paying its council tax. If you have children, you should register them at the local school.
You should do these tasks soon after completion.
Tell us about how we did?
We value your feedback greatly - it means everything to us and we want to hear it. We'll send you a feedback form after we've completed a service for you and we ask you to take the time to complete it, telling us how we did.
We ask you to do this after completion, when the experience is still fresh.
Enjoy your new home!
You know that you've definitely earned the privilege; it's taken you weeks of planning, years of saving and lots of help!
You should definitely do this after completion and hopefully for quite a long time afterwards!
*First Tiem Buyer Specialists - Fixed Fee – No Sale No Fee – On all Mortgage Lender Panels
Proud of our Reviews


322 Google Reviews FREE Online Conveyancing Process for Buyers
Includes online checklists, videos, downloads and tips - plus it is completely free to use from start to finish and saves your progress along the way.
Log in